Foot Health Week 2022 is here
Our annual foot health awareness campaign will be running from Monday 25 April to Sunday 1 May. It is time to focus on all things feet.
This year the Royal College of Podiatry (RCPod) pays special attention to the problems that can come with standing for long periods at work.
- Did you know that 79% of retail workers spend between four and ten hours on their feet during the working day?


- Of these, 30% felt their mental well-being and quality of work were affected after just four hours, rising to 41% after eight hours


- A further 35% didn't seek a solution to their issues or know what available solutions were.
As the experts in foot and lower limb health, podiatrists can help people overcome pain and lead happier, healthier and more active lives.
Source data: Materialise 2021
Are you standing for long periods? Feet hurting?
Do not ignore foot pain.
If your pain is recurring or lasts longer than two weeks, we advise professional intervention.
One of the preventative steps you can take is wearing appropriate footwear for your work or activity; this reduces discomfort and the chance of injury.
During Foot Health Week, the Royal College of Podiatry and its members want to highlight the importance of wearing the right shoes for the correct purpose.
Download RCPod's free leaflets: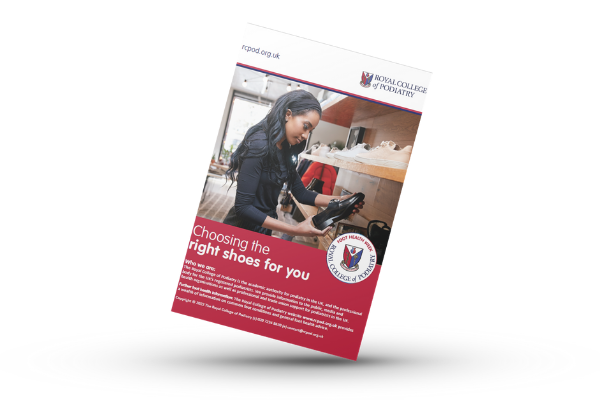 Footwear
Find out how to select the correct footwear for your job or chosen activity in our leaflet
Choosing the right shoes for you.
Download our leaflet here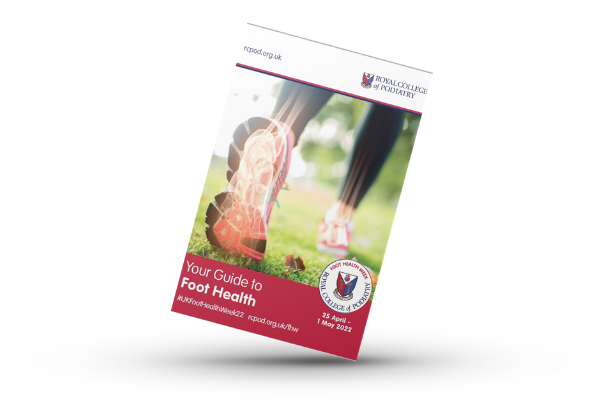 Foot health
Our Guide to foot health will give you some general advice about looking after your feet.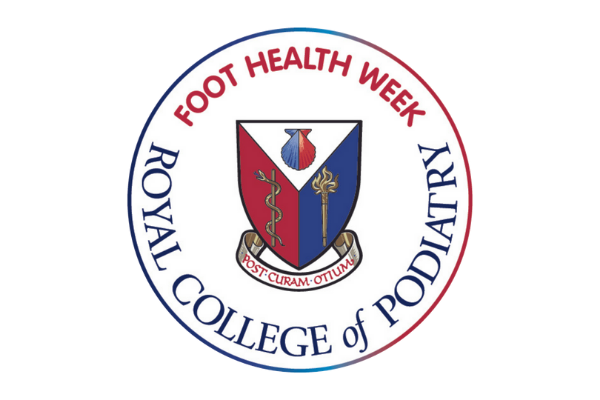 Other resources
Specially designed posters, leaflets and social media cards promoting Foot Health Week 2022 are available on Google Drive.
Download further resources here
Find a podiatrist
Podiatrists are experts in foot and lower limb health. If you wish to see a podiatrist, you can find a private clinic near you using our online Find a Podiatrist service.
All practitioners in our online directory are members of the Royal College and listed on the HCPC register.

Alternatively, you can check with your local NHS to find out about your area's podiatry services. Services vary depending on your local NHS Trust or Health Board, and self-referral may be available.
Get involved with the campaign
We have a range of social media resources and posters you can use to spread the word about Foot Health Week.
Do not forget to use the hashtag
#UKFootHealthWeek22
on social media to join in all the online activities this week.
If you are a member of the Royal College, you can access resources in the members' area.
What is a podiatrist?
Podiatrists are the experts in foot and lower limb health. You might know them as chiropodists, but there is no difference between the services. Podiatrists are trained to degree level and are Allied Health Professionals.

In the UK, podiatry is a regulated profession. All podiatrists need to register with the Health and Care Professions Council (HCPC). You can check that your foot care provider is a podiatrist on the HCPC website.
About the Royal College of Podiatry
The Royal College of Podiatry (RCPod) is a professional body and trade union - for podiatrists.

We are the voice of podiatry in the UK and internationally. We speak to the public, media, government bodies and other organisations about the importance of podiatry.

We are also the academic authority for podiatry in the UK. The Royal College does not provide training in podiatry, but it accredits the training provided by the many universities across the UK, including undergraduate degrees, apprenticeships and pre-registration masters.

You can find out more about how and where to train as a podiatrist on our website.