CARDIFF – THE PLACE I CHOSE TO #STUDYPODIATRY
Careers Information
Podiatry Student
UCAS Clearing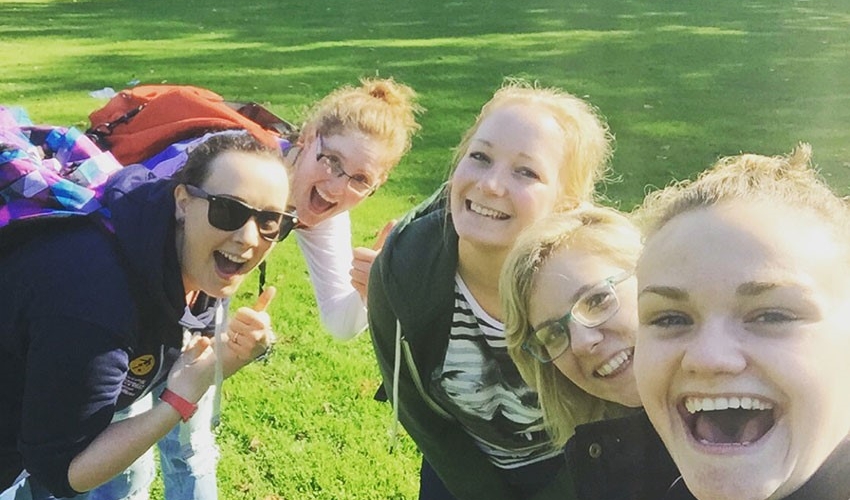 Cardiff Student Natalie Pitman tells us what she loves about Cardiff and studying podiatry Canton, West Cardiff is now my home. From my front door to Llandaff campus is around a 20 minute walk, or I can get the number 1 bus if the Welsh weather is particularly ghastly! I tend to walk as I […]
CARDIFF STUDENT NATALIE PITMAN TELLS US WHAT SHE LOVES ABOUT CARDIFF AND STUDYING PODIATRY
Canton, West Cardiff is now my home. From my front door to Llandaff campus is around a 20 minute walk, or I can get the number 1 bus if the Welsh weather is particularly ghastly! I tend to walk as I feel it really sets me up for the day ahead. On uncharacteristically sunny days, I take the scenic route through Llandaff fields. As the seasons are changing is the best time to go. Oftentimes, myself and my little gang of females (my 'pod squad') will take a stroll at break times and grab a coffee in the café at the Pontcanna end of Llandaff fields.
PERFECT COMMUTE TO UNIVERSITY…

Walking a few hundred yards through the park, and all the traffic noise of Western Avenue begins to fade. It then almost feels like we're not in a city at all. Those are the days I love the most. Cardiff is a capital city like few others; you don't need to venture far from the city centre to find 'green' and tranquillity. As a self-proclaimed country bumpkin, this was a major selling point for me.
STUDENT LIFE
Every day is different for me as a Podiatry student. On Mondays and Thursdays, I am treating patients at the Wales Centre for Podiatric Studies. Clinics are busy, and sometimes emotional. But when the patient stands up after treatment and exclaims with the utmost sincerity "Oh! I feel as though I'm walking on a cloud!", then any stress and anxiety fades away.


Skills lab sessions are where we get to release our inner child. The plasticine and Play-Doh come out and we are tasked with creating biological processes or parts of lower limb anatomy. This kinaesthetic learning is something we all greatly look forward to. Lectures are as varied as the seasons. Some involve note taking and listening intently, some are more akin to workshops where we do balance tests, or learn strapping techniques.

I never thought I would be able to live in a city. The fast-paced life, tall grey buildings and unreliable public transport just never appealed to me. But after living in Cardiff for nearly 2 years, I can say with no doubt in my mind that Cardiff is a piece of me, and I am a piece of Cardiff.
FURTHER INFORMATION:
Find out more about studying Podiatry at Cardiff Met Click here.
Follow us on Twitter: @CMUPodiatry
Thanks for stopping by to read our blog. Please share this story if you think someone you know might be interested in reading it.
Until next time
The Podiatry Careers Team