CRISIS AT CHRISTMAS AND THE TEAM FROM NEW COLLEGE DURHAM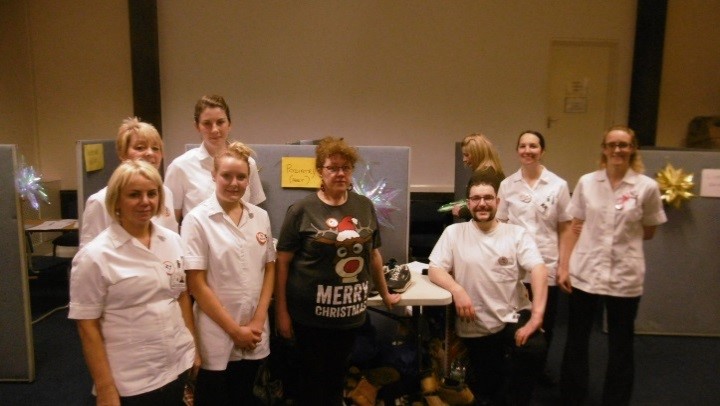 New College Durham School of Podiatry once again had the great privilege of providing service to the Newcastle upon Tyne branch of Crisis for Christmas on Boxing Day. On the day at the Newcastle-upon-Tyne branch of Crisis at Christmas podiatry sat alongside a GP and other allied health professionals providing a valuable easy to access service. […]
NEW COLLEGE DURHAM SCHOOL OF PODIATRY ONCE AGAIN HAD THE GREAT PRIVILEGE OF PROVIDING SERVICE TO THE NEWCASTLE UPON TYNE BRANCH OF CRISIS FOR CHRISTMAS ON BOXING DAY.
On the day at the Newcastle-upon-Tyne branch of Crisis at Christmas podiatry sat alongside a GP and other allied health professionals providing a valuable easy to access service. These other services included, counselling, dentistry and Indian head massage.
The students set up a three station clinic;
station 1 the guests had their feet washed and were triaged,
station 2 they received podiatric treatment and education,
station 3 the guest were issued with socks and a shoes.
The guests openly chatted about life on the street and the daily challenges they face. To all this left a lasting impression.
The final year podiatry students continue to find working with Crisis at Christmas to be a great experience. The complexity of the guests needs being something they have not experienced to date in their other clinical experiences. Having a very limited clinical history can be a challenge. Additional to the experience is being able to give something back to the community.
Thank you for stopping by to read our blog. Please share this story if you think someone you know might be interested in reading it.
Until next time
The Podiatry Careers Team