PODIATRY COURSES IN THE SPOTLIGHT… UNIVERSITY OF SOUTHAMPTON
Podiatry Careers Websites
Showcase Blogs
UCAS Application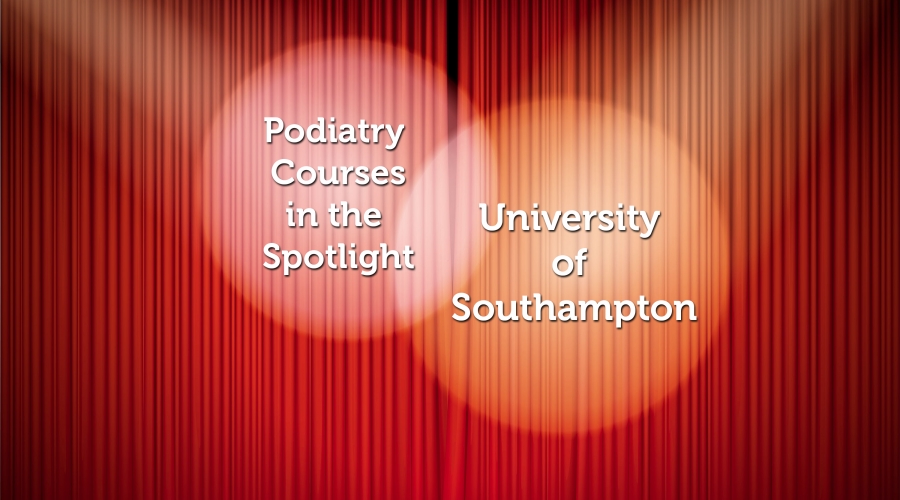 The College of Podiatry is working with the Schools of Podiatry across the UK to showcase each School's course and facilities. Welcome to University of Southampton's showcase blog… The podiatry programme at the University of Southampton continues to provide a high quality undergraduate experience for students leading to professional registration with the Health and Care Professions Council. […]
THE COLLEGE OF PODIATRY IS WORKING WITH THE SCHOOLS OF PODIATRY ACROSS THE UK TO SHOWCASE EACH SCHOOL'S COURSE AND FACILITIES. WELCOME TO UNIVERSITY OF SOUTHAMPTON'S SHOWCASE BLOG…

The podiatry programme at the University of Southampton continues to provide a high quality undergraduate experience for students leading to professional registration with the Health and Care Professions Council. Graduates from the podiatry programme work in clinical, academic and leadership roles throughout the UK and worldwide.
Many have leading roles in specific specialities and all have the ability to influence and develop clinical practice to enhance patient care.
The programme emphasises the importance of students being equipped to change the world of healthcare for the better by education, research and enterprise.
We seek to develop clinical leaders who demonstrate transformational skills to constantly improve systems and processes for improving clinical care.
By students experiencing first hand interaction with the leaders and movers in the podiatry profession, the motivation to strive for increasing knowledge and to develop a career pathway is invaluable.
We seek to continue to provide graduates with excellent clinical skills combined with the ability for analytical and critical thought and a keen sense of confidence to constantly improve and influence others in providing the highest quality of care.
What you can expect when you graduate…


Study at University of Southampton
Thank you for stopping by to read our blog. Please share this story if you think someone you know might be interested in reading it.
Until next time
The Podiatry Careers Team