GOING TO THE ROOF OF THE WORLD TO PROMOTE PODIATRY
Being a Podiatrist
Promoting Podiatry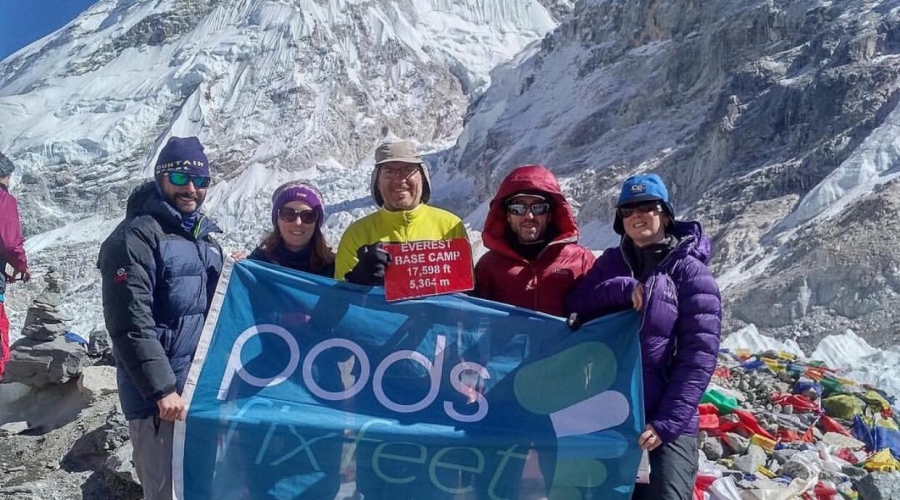 An adventurous way to promote podiatry… Some podiatrists go to great lengths to promote the fantastic profession of podiatry. Read on to see how one team of podiatrists found themselves doing exactly that at Everest Base Camp! At the end of 2017 a team of podiatrists made the incredible trek to Everest Base Camp to […]
AN ADVENTUROUS WAY TO PROMOTE PODIATRY…
Some podiatrists go to great lengths to promote the fantastic profession of podiatry. Read on to see how one team of podiatrists found themselves doing exactly that at Everest Base Camp!
At the end of 2017 a team of podiatrists made the incredible trek to Everest Base Camp to raise awareness of Podiatry & to raise money for three different charities.
The 5 podiatrists who undertook this challenge of a lifetime, were Andy and Kath Lindsay, Andrew and Anna Ayres and Jonathan Small.
The trek consists of 80 miles, 30,000 feet of ascending and descending at temperatures as low at -10 degrees.
The trip did not get off to a great start with a couple of interesting flights from Birmingham involving lost luggage and security searches. A quick shopping trip in Kathmandu, undertaken by their Sherpa to make sure they were not charged Bideshi (foreigner) prices, to re-kit and they were soon on their way. Their real adventure began on Saturday 18th November in Lukla, a town in the Khumbu region of Eastern Nepal.
ALTITUDE TAKES IT TOLL
Flying straight into Lukla at an altitude of 9,383 gives little opportunity to acclimatise and the effects of the altitude surprised the team from the start, with shortness of breath and headaches hitting the group almost immediately. Luckily their experienced Sherpa and porters were always on the lookout for anyone struggling to acclimatise.
As you would imagine there was a lot of uphill, but there were also depressing downhill stretches where there was an inevitably even bigger uphill section to regain the hight lost. All along the route there were a number of long precipitous suspension bridges which thankfully removed the need to walk down & back up valleys, but did require a significant amount of nerve to cross, especially for those in the group not so comfortable with heights.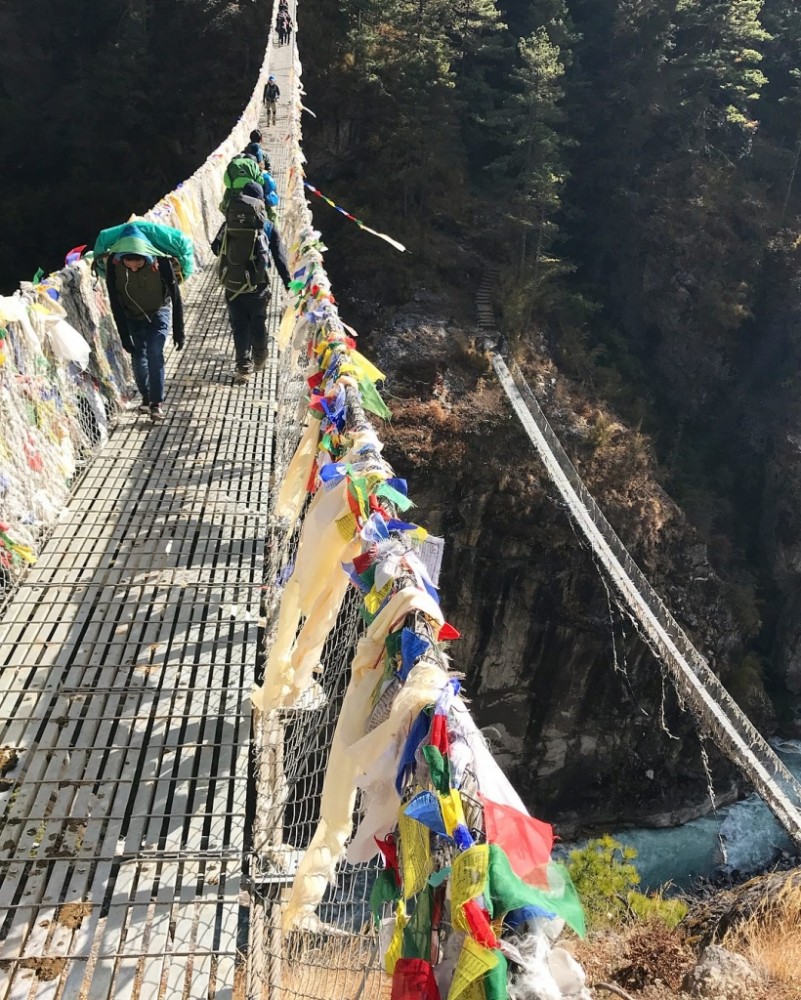 Throughout the trip they had an experienced Sherpa, Jangbu, to guide them throughout the whole experience. He was a constant source of support, advice & encouragement. He advised them on what to eat and drink, provided lots of information about the local area and culture. He even organised another Sherpa to run to get extra emergency lemon tea when they were seriously flagging.
GOING UP
It took several days of relentless walking but the beautiful scenery, their training and their team work kept spirits up and saw them pushing up the mountain.
Each night they tried to sleep and eat at the lodges but the nausea and increasing cold made this difficult. Walking long days uphill, with difficulty breathing and little sleep is not a great combination.
Some of the most memorable moments were watching an Eagle in flight, playing pass the pigs next to a fire burning Yak dung (slightly surreal) , the Sherpa museum and most importantly the stunning mountain views, including that very first view of Everest – Breath taking & tear inducing.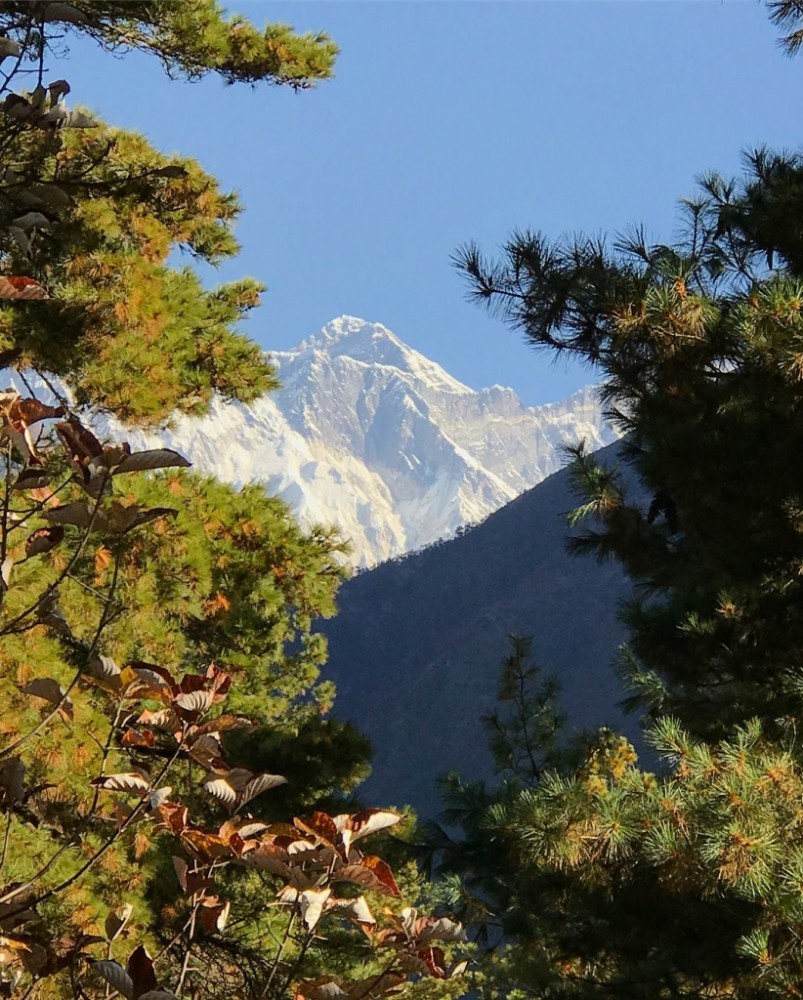 Being podiatrists they couldn't not fail to be affected by the extreme conditions the Sherpas live in, the amount they put their feet through and the footwear choices they made. They examined a Sherpas feet, and considering he walks in sandals everyday with 30kg on his back, his feet were in remarkably good condition.
Many a foot care discussion was had during the trek, wondering if the locals have hypermobility or have developed gait adaptions to cope with the loads and conditions.
THE LAST PUSH
Tired, exhausted and struggling even more with the effects of altitude, the team started on their last climb on Sunday 26th November. Arrival at Base Camp was very emotional, with lots of tears, hugs and photos for them all.
Base Camp in November is just a pile of rocks so they stayed for an hour, left their #podsfixfeet flag in the rocks and began the slow walk down to the overnight lodge.
The next day 4 of the team dug deep into their physical & emotional resources and went on to summit Kala Patthar and watch the sunrise over Mount Everest- sounds beautiful!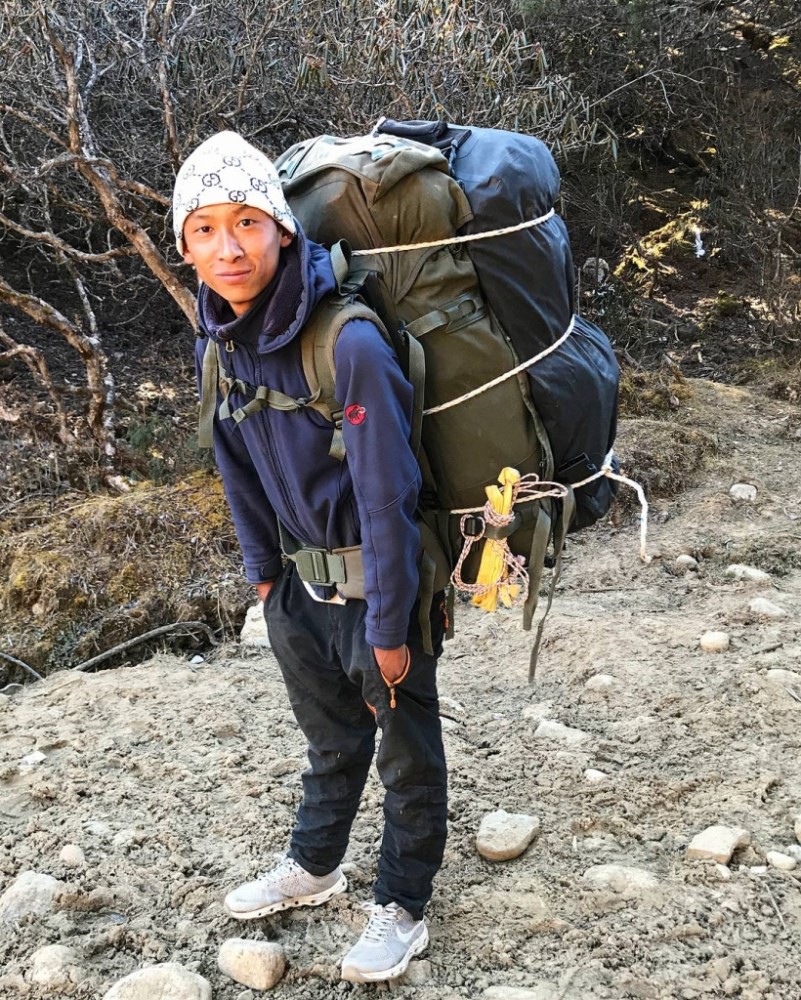 GOING DOWN
Descent is quicker so the team chose to spend a little bit of time on the way down visiting a monastery and enjoy some culture. After arriving back in Lukla theye were forced to spend one more night in the cold and at altitude as their flights in to Kathmandu were delayed because of poor visibility in the Kathmandu valley. The following day the team opted to charter a helicopter for the return flight to ensure they did not miss their international flights. That flight was a spectacular way to finish the trip flying through huge mountain panoramas and over the steep sided terrased farming lands in the Hymalayan foot hills. Finally they made it back to Kathmandu for a return to the UK on December the 2nd.
In total the team raised an amazing £8,000 to be donated to 3 charities- Yorkshire Air Ambulance, Mental Health Foundation and Scleroderma and Raynauds UK.
An amazing experience and adventure for a fantastic team, well done to you all!
We would love to feature any other podiatrists achieving incredible heights!
Thank you for stopping by to read our blog. Please share this story if you think someone you know might be interested in reading it.
Until next time
The Podiatry Careers Team