"WHAT I DID WITH MY GOLDEN TICKET"
Being a Podiatrist
Golden Ticket
Studying Podiatry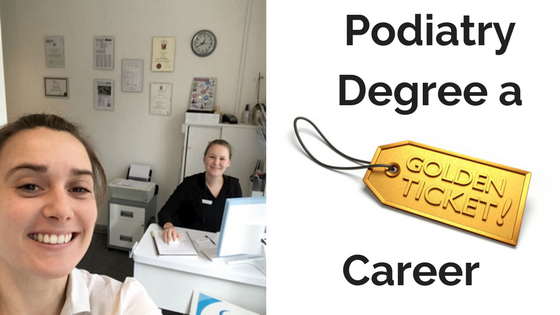 Podiatry – A Golden Ticket Career Here is the first in our series of blogs "What I did with my podiatry degree" Private practitioner Emma Price explains how she came to choose podiatry as a career and what she's achieved since graduating. "If I'm honest I was never sure what it was I wanted to […]
PODIATRY – A GOLDEN TICKET CAREER
Here is the first in our series of blogs "What I did with my podiatry degree" Private practitioner Emma Price explains how she came to choose podiatry as a career and what she's achieved since graduating.
"If I'm honest I was never sure what it was I wanted to be. I moved from potentially being a natural history documentary film maker to a dive master in Thailand to a Science teacher where I finally settled for 5 years. I couldn't quite put my finger on what I wanted to "be".
As I could tell my career in teaching was coming to an end, I decided to reassess things. I was given some excellent advice (by my mother – a Podiatrist funnily enough!) and was asked to write down not what I wanted to be but what I wanted out of my job. What did I want to achieve? Where did I see my future career going? This is actually easier than I thought….
HERE WAS MY LIST…

Not once was Podiatry on my radar, (for no particular reason but I really hadn't considered it) but once I had a read about the career options available it really was a case of getting on a course ASAP. The Birmingham School of Podiatry became my home for the next 3 years and I have never looked back. Not once. I worked my socks off and had a clear business objective throughout the degree course.
I now am a director of two successful clinics and the second is just entering an expansion phase. What a journey we are on!
I am exhausted (I'm not going to lie – find a new business owner who isn't) however, I can honestly say I have never woken up not wanting to go to work, because it's mine. I run my own life now and couldn't be happier".
Check back again soon to read more stories from podiatrists using their golden ticket degree!
Thank you for stopping by to read our blog. Please share this story if you think someone you know might be interested in reading it.
Until next time
The Podiatry Careers Team