APPRENTICESHIP ROUTE: A NEW WAY TO STUDY PODIATRY
Apprenticeship
Careers Information
Studying Podiatry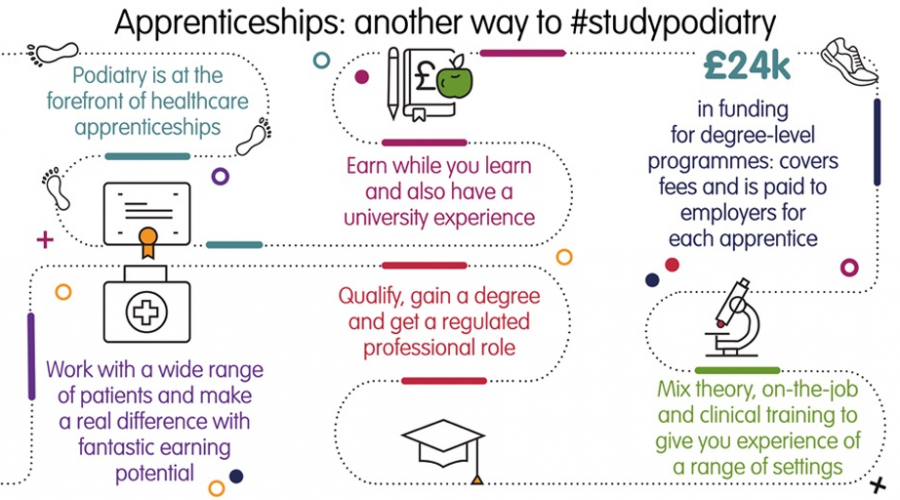 Up until last year the only way to study podiatry was to go to university and study a BSc (Hons) or pre-registration MSc degree (click here for further information). Because of the Governments' enthusiasm for apprenticeships we have an opportunity to offer an additional route of study. This is a great for those who need […]
Up until last year the only way to study podiatry was to go to university and study a BSc (Hons) or pre-registration MSc degree (click here for further information). Because of the Governments' enthusiasm for apprenticeships we have an opportunity to offer an additional route of study. This is a great for those who need to earn whilst they are learning.
APPRENTICESHIP STANDARD
The podiatry apprenticeship is ready for delivery (see further details here) There are two universities in England currently with an approved programme (All programmes in England that lead to a regulated professional role require approval by the regulator and the professional body).
The University of Brighton have a degree apprenticeship programme as does The University of Huddersfield. Courses coming up for approval include East London, Plymouth and Salford universities.
Importantly, podiatry is validating both BSc (Hons) and pre-registration MSc degree apprenticeship routes. If you already have a science degree why not consider the pre-registration MSc route?
GREAT BENEFITS OF THE APPRENTICESHIP ROUTE:
Podiatry is a highly desirable profession with lots of fantastic options for career development and progression.
Earn while you learn and also have a university experience.
£24k in funding for degree-level programmes or £18k in funding for pre-registration MSc programme: covers fees and is paid to employers for each apprentice.
Mix theory, on-the-job and clinical training to give you experience of a range of settings.
Qualify, gain a degree and get a regulated professional role.
Work with a wide range of patients and make a real difference with fantastic earning potential.
YOU'LL NEED TO BE COMMITTED…
It is worth saying though, that this route is not an easier option and the academic and clinical demands are equal to the existing undergraduate routes. You will need to be committed and be willing to work hard to get through the programme. That said employers and universities will offer lots of support and guidance and there are networks through the College of Podiatry that can help you so it's worth joining as a student member (after you are enrolled on a programme, which is free)
HOW DO I FIND AN APPRENTICESHIP ROLE?

If you, or someone you know is interested in the apprenticeship route, then they would need to apply for an apprentice job role first and those based in the NHS are advertised on the NHS jobs website here (you can set up alerts so you can see them once they become available). Remember, academic entry requirements will generally be the same as the standard route therefore, it's advisable to aim to get those results.
Opportunities with private employers will be advertised through the government apprenticeships portal
Register your interest with the universities and they can point you towards prospective employers who may be offering apprenticeship routes in the future.
Experience of shadowing a podiatrist is really useful alongside the academic requirements. Try approaching a local podiatrist to see if you could arrange to shadow them. The College of Podiatry has a find a podiatrist function on its website which may help you identify practitioners in your area who you may wish to approach.
FUTURE DEVELOPMENTS
The apprenticeship route is developing all the time keep up with the changes by:
Regularly visiting websites of the organisations mentioned in this blog
Visiting the universities websites for updates
Staying in touch with us on social media!
We will all do our best to help prospective applicants to get into a worthwhile and rewarding career in podiatry!
Thank you for stopping by to read our blog.
Please get sharing!
Until next time
The Podiatry Careers Team