PODIATRY AND SCHOOL SCIENCE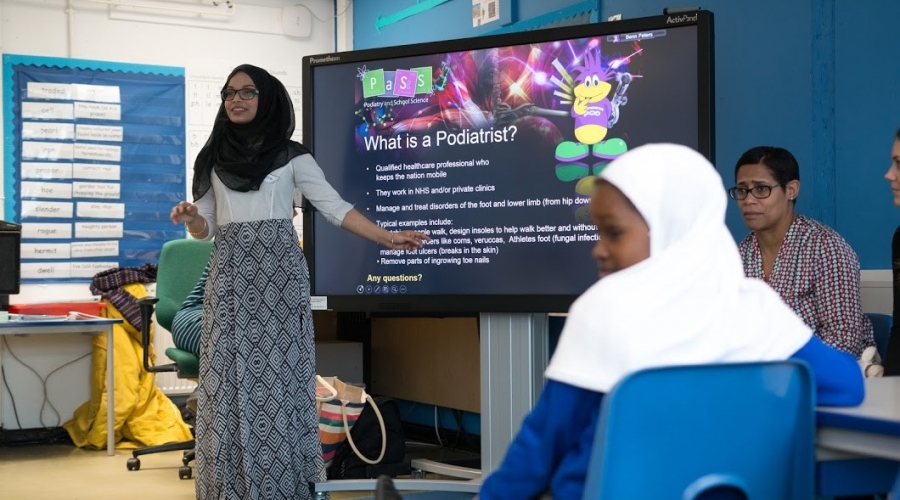 Podiatry and School Science is a project that aims to bring science and podiatry alive in our schools by providing a structured and resourced lesson that podiatry students and podiatrists alike can deliver in their local area. The Podiatry and School Science project has been delivered in schools up and down the UK meaning that thousands of children, their […]
Podiatry and School Science is a project that aims to bring science and podiatry alive in our schools by providing a structured and resourced lesson that podiatry students and podiatrists alike can deliver in their local area. The Podiatry and School Science project has been delivered in schools up and down the UK meaning that thousands of children, their teachers and some of their parents now have an awareness of podiatry and an understanding of its connection to science.
PODIATRY AND SCHOOL SCIENCE IN ACTION
Podiatry staff and students from the University of East London have been involved in delivering the Podiatry and School Science (PASS) project since 2011. The aim of the project is to connect with school children across the UK (and their teachers) by promoting podiatry awareness and foot health through the science curriculum.
This is their Podiatry and School Science story . . . . .
BACK TO WHERE IT ALL BEGAN

This week we went back to Maryland Primary school where it all began.
This was the first school we visited when we started delivering the Podiatry and School Science project five years ago, and since then we have been coming back every year to introduce more children to the project and tell them about the podiatry profession. Maryland Primary is one of many schools we have visited over the last five years and a common theme, which is evident in all of the schools, is that the children are always very enthusiastic to learn more about science.
The session we delivered included an interactive presentation all about the importance of looking after our feet and the role of the podiatrist. The children were eager to tell us about what they did to keep their feet healthy and we looked at the different types of shoes people liked to wear. We also discussed how poor footwear could lead to foot problems.
HERE COMES THE SCIENCE BIT…
After the presentation the children worked in small groups to carry out an investigation to answer the question
DO TALLER PEOPLE HAVE BIGGER FEET?

'I wish the podiatrists could teach us more about taking care of our feet as they are very important'
and
'I want to know more about the blood flow to my feet'
Some children said they wanted to study Podiatry at University and they learnt that studying helps them follow a career.
It's not only the children who enjoy the lesson but it is a great project for our students to be involved in. Gemma, a 3rd year podiatry student said
"PASS is a great project, introducing primary school children to the podiatry profession and encouraging them to explore how different branches of science are involved in podiatry. I love the children's enthusiasm in carrying out the investigation and their curiosity to learn more about their own foot health and what podiatrists do. It's a really satisfying thing to be part of"

SO DO THEY?
Do taller people have larger feet?
Well the results of this particular PASS project are inconclusive. Sometimes the class find that they do have, but a different class find that they don't. BUT what is really important is that by going through the PASS experiment the children learn that experiments have limitations. They learn that there can be errors if not everyone measures the same way, or there can be errors if you can't read someones writing and have you have to guess.
They learn that science experiments require rigour to provide reliable and repeatable results, and how important this is in science.
Having now returned to Maryland Primary school we also know that they learn about podiatry. Who podiatrists are and what they do, which after all is the overall aim of the Podiatry and School Science project.
Our return to the school was a fun afternoon and it's always fantastic to meet so many enthusiastic children who love learning about science. Thanks to the staff and children at Maryland Primary school for having us! We are already looking forward to going back again next year.

Written by: