PODIATRY COURSES IN THE SPOTLIGHT… NEW COLLEGE DURHAM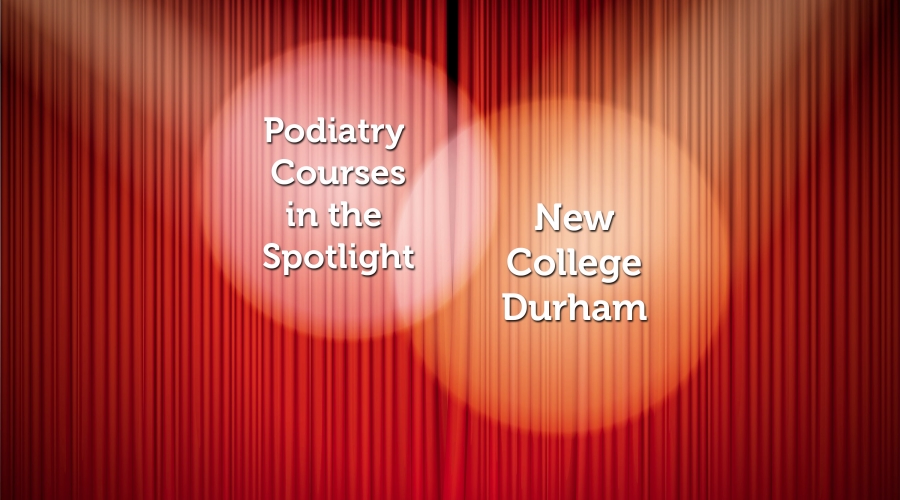 The College of Podiatry is working with the Schools of Podiatry across the UK to showcase each School's course and facilities. Welcome to New College Durham's showcase blog… Students come to New College Durham to study podiatry for many different reasons. Some are attracted to the good work life balance that can be achieved by working as […]
THE COLLEGE OF PODIATRY IS WORKING WITH THE SCHOOLS OF PODIATRY ACROSS THE UK TO SHOWCASE EACH SCHOOL'S COURSE AND FACILITIES. WELCOME TO NEW COLLEGE DURHAM'S SHOWCASE BLOG…
Students come to New College Durham to study podiatry for many different reasons. Some are attracted to the good work life balance that can be achieved by working as a podiatrist, others are drawn to the historical city of Durham with its vibrant nightlife and beautiful scenery. Once here, however, all students agree that the tutor support, the small class sizes, and the modern clinic facilities make New College Durham the right choice.
From the application process it was clear that New College Durham are training their students to be podiatrists, not just academics.
Emphasis on the importance of undertaking work shadowing qualified podiatrists means that before students can be accepted onto the course they have a good knowledge about what the job entails. Lecturers have said that during interviews, it's a compassionate and caring nature that makes an applicant stand out, rather than their academic achievements. Talking to the students this emphasis is obvious because everybody is supportive of each other, making the learning process easier.
In both the classes and the clinic sessions we're lucky enough to have great support from all the lecturers. We're also allocated with a personal tutor and have course reps who attend staff meetings to ensure our feedback and concerns are listened to. Learning is divided between classroom lectures and practical clinic sessions. The theory sessions provide a good underpinning knowledge and are taught by highly experienced podiatrists, so the ways in which each subject relates to podiatry are made clear.
All learning, from the theory to the practical (including placements) is geared towards producing podiatrists who are ready to work right after graduation. Podiatry at New College Durham is a great choice for anyone who wants a good career in the allied health professions.

If you want to be supported and well prepared to hit the ground running after your course ends, choose New College Durham!
By Jo, Angela, Nasro, Yvonne (Current podiatry students).
Thank you for stopping by to read our blog. Please share this story if you think someone you know might be interested in reading it.
Until next time
The Podiatry Careers Team