PODIATRY COURSES IN THE SPOTLIGHT… UNIVERSITY OF HUDDERSFIELD
Podiatry Careers Websites
Showcase Blogs
UCAS Application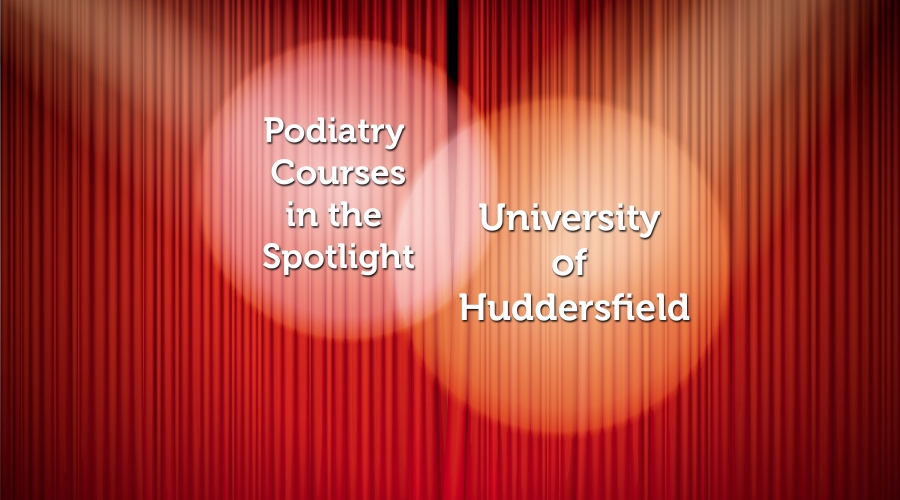 The College of Podiatry is working with the Schools of Podiatry across the UK to showcase each School's course and facilities. Welcome to University of Huddersfield's showcase blog… What our Podiatry students at the University of Huddersfield have to say: I did have a patient cry on me once because she felt so […]
THE COLLEGE OF PODIATRY IS WORKING WITH THE SCHOOLS OF PODIATRY ACROSS THE UK TO SHOWCASE EACH SCHOOL'S COURSE AND FACILITIES. WELCOME TO UNIVERSITY OF HUDDERSFIELD'S SHOWCASE BLOG…

What our Podiatry students at the University of Huddersfield have to say:
I did have a patient cry on me once because she felt so much better because of her treatment. I got a nice little hug!"
The lecturers have all the time in the world for you! It's a really great learning environment."
I'm glad I chose podiatry. It's really interesting, engaging and practical."
I love my job. I like coming into work in the morning. I'm glad all those years ago I decided to study podiatry."
Find out how to become a student at Huddersfield on our Podiatry page.
Thank you for stopping by to read our blog. Please share this story if you think someone you know might be interested in reading it.
Until next time
The Podiatry Careers Team