PODIATRY COURSES IN THE SPOTLIGHT… PLYMOUTH UNIVERSITY
Podiatry Careers Websites
Showcase Blogs
UCAS Application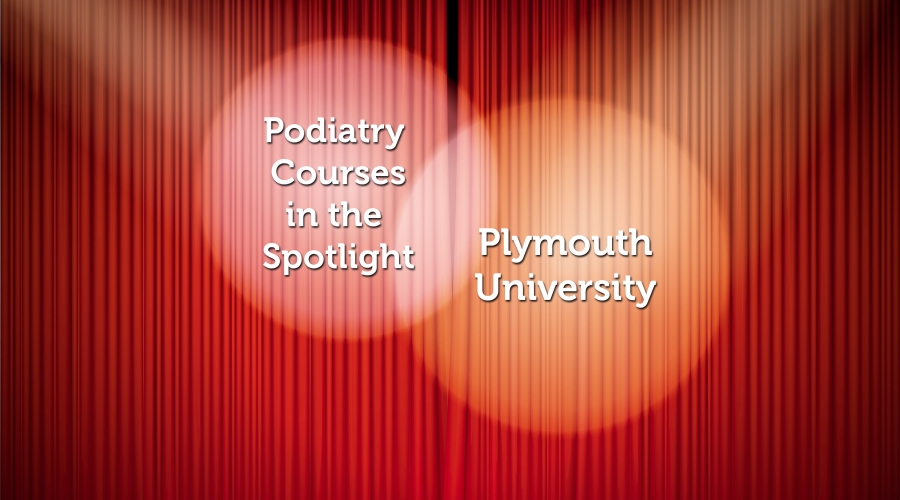 The College of Podiatry is working with the Schools of Podiatry across the UK to showcase each School's course and facilities. Welcome to Plymouth University's showcase blog… We are incredibly proud at Plymouth University of our students and it was no surprise to us that 100% of graduates of the BSc (Hons) Podiatry degree programme […]
THE COLLEGE OF PODIATRY IS WORKING WITH THE SCHOOLS OF PODIATRY ACROSS THE UK TO SHOWCASE EACH SCHOOL'S COURSE AND FACILITIES. WELCOME TO PLYMOUTH UNIVERSITY'S SHOWCASE BLOG…
We are incredibly proud at Plymouth University of our students and it was no surprise to us that 100% of graduates of the BSc (Hons) Podiatry degree programme in 2015-16 were in employment as podiatrists six months after graduation.
This is not unusual and we always look forward to hearing from graduates regarding their future achievements through our vibrant alumni network 'Plymouth Connect'.

We asked the year of 2016 and also our existing students why they chose to study at Plymouth and they said the reputation and location were key and having studied here also noted the high quality of teaching and placements.
At Plymouth University we offer not just a degree, but focus on personal and professional development through the 'Plymouth Compass' programme. Students also have the opportunity to work with academic staff with the Plymouth Raiders league basketball team and Plymouth Half Marathon minor injuries clinic; activities threaded through their University journey. Academic achievement is not the only aim for our graduates and there is opportunity to develop and enhance communication skills, personal endeavour and business management, all of which are deemed important, especially by employers. We work hard to ensure that the student experience of the Plymouth University podiatry degree is second to none, and the staff and students work together within a respectful and stimulating collegiate culture to achieve goals which lead to success.
If you choose to study Podiatry at Plymouth University and invest your time and energy studying with us, you will be rewarded by the expertise of a talented academic and clinical team, plus the knowledge that you will graduate with the skills to safely take you into your career as a junior podiatrist and beyond.
Thank you for stopping by to read our blog. Please share this story if you think someone you know might be interested in reading it.
Until next time
The Podiatry Careers Team