PODIATRY COURSES IN THE SPOTLIGHT… CARDIFF METROPOLITAN UNIVERSITY
Podiatry Careers Websites
Showcase Blogs
UCAS Application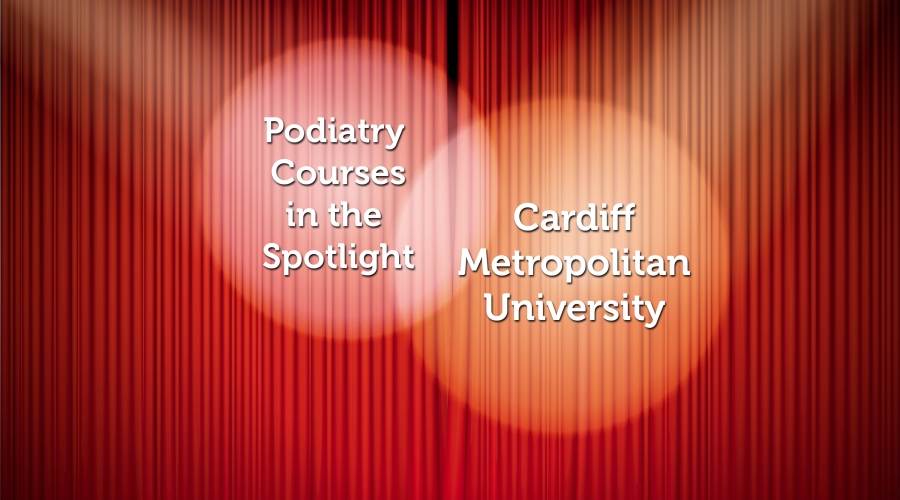 The College of Podiatry is working with the Schools of Podiatry across the UK to showcase each School's course and facilities. Welcome to Cardiff Metropolitan University's showcase blog… At Cardiff Metropolitan University the academic podiatry team are cognisant that we live in a thriving digital age where technology can be used to enhance not only theoretical but […]
THE COLLEGE OF PODIATRY IS WORKING WITH THE SCHOOLS OF PODIATRY ACROSS THE UK TO SHOWCASE EACH SCHOOL'S COURSE AND FACILITIES. WELCOME TO CARDIFF METROPOLITAN UNIVERSITY'S SHOWCASE BLOG…
At Cardiff Metropolitan University the academic podiatry team are cognisant that we live in a thriving digital age where technology can be used to enhance not only theoretical but practical and applied learning experiences.
Recent grants from WEDS (Workforce Education and Development Scheme) have facilitated the purchase of and implementation of technological equipment for the department, which includes interactive white boards, iPads (with embedded anatomy software), touch screen television and a medical simulator.

In addition, the funding allowed the creation of our own bespoke anatomy and physiology skills laboratory which has been equipped with the resources for students to be involved in constructionism and applied learning. This approach which blends technology and application, develops creativity and learning by doing, which supports the vocational nature of the programme.
Feedback from students has been positive with many commenting that opportunity to actively take part in the creation of their own knowledge has been exciting and rewarding.
Thank you for stopping by to read our blog. Please share this story if you think someone you know might be interested in reading it.
Until next time
The Podiatry Careers Team