PODIATRY COURSES IN THE SPOTLIGHT… UNIVERSITY OF NORTHAMPTON
Podiatry Careers Websites
Showcase Blogs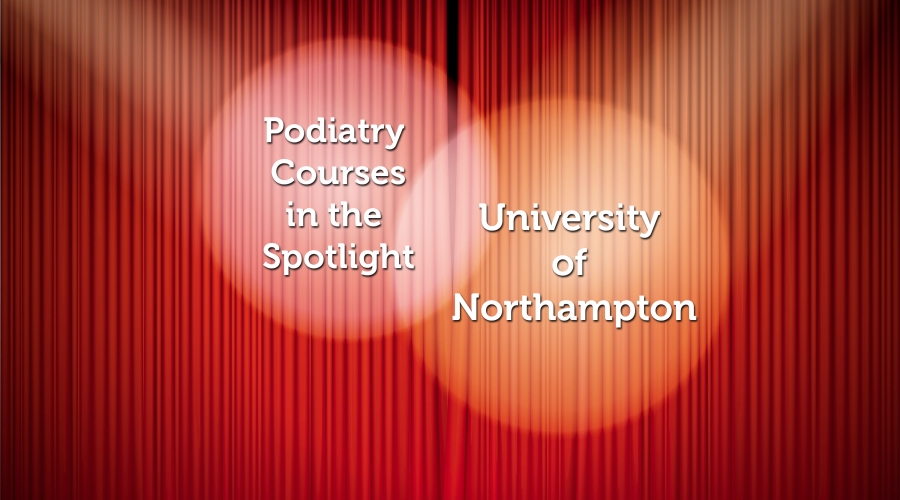 The College of Podiatry is working with the Schools of Podiatry across the UK to showcase each School's course and facilities. Welcome to University of Northampton's showcase blog… The University of Northampton has a well-established Podiatry programme, which is well respected by employers both in the private sector and in the NHS and has an excellent […]
THE COLLEGE OF PODIATRY IS WORKING WITH THE SCHOOLS OF PODIATRY ACROSS THE UK TO SHOWCASE EACH SCHOOL'S COURSE AND FACILITIES. WELCOME TO UNIVERSITY OF NORTHAMPTON'S SHOWCASE BLOG…
The University of Northampton has a well-established Podiatry programme, which is well respected by employers both in the private sector and in the NHS and has an excellent track record for students setting up their own business ventures. This explains the excellent figures from the national student survey of 96% employability amongst graduates (national student survey NSS).
We want to get the very best students and in return we deliver excellence in the following ways…

All students have a personal academic tutor and a named work based mentor. Students are also able to get additional support from CfAP (centre for achievement and performance), ASSIST, and an outstanding team of academic librarians. The library has over 1000 study spaces and the podiatry programme also has access to the NHS Postgraduate library offering full lending rights to podiatry students. Student satisfaction has always been high on our degree but this year achieved 100% satisfaction (NSS). The podiatry programme has a student dedicated clinical unit that is well supported by a diverse range of placement opportunities in specialist environments e.g NHS multidisciplinary diabetes teams, orthopaedics, podiatric surgery and NHS sports consultancy clinic. The university also provides Pebblepad licences to its podiatry students.
What can you do outside of your course? Loads!
There is a thriving student union with bars, night clubs and attracts stars such as Tinie Tempah to freshers week and free fairground rides. There are excellent sporting facilities with successful teams in football, rugby, hockey and Lacrosse. We are the first UK university to achieve Ashoka U status and only 1 of 22 worldwide.
Thank you for stopping by to read our blog. Please share this story if you think someone you know might be interested in reading it.
Until next time
The Podiatry Careers Team