PODIATRY COURSES IN THE SPOTLIGHT… QUEEN MARGARET UNIVERSITY
Podiatry Careers Websites
Showcase Blogs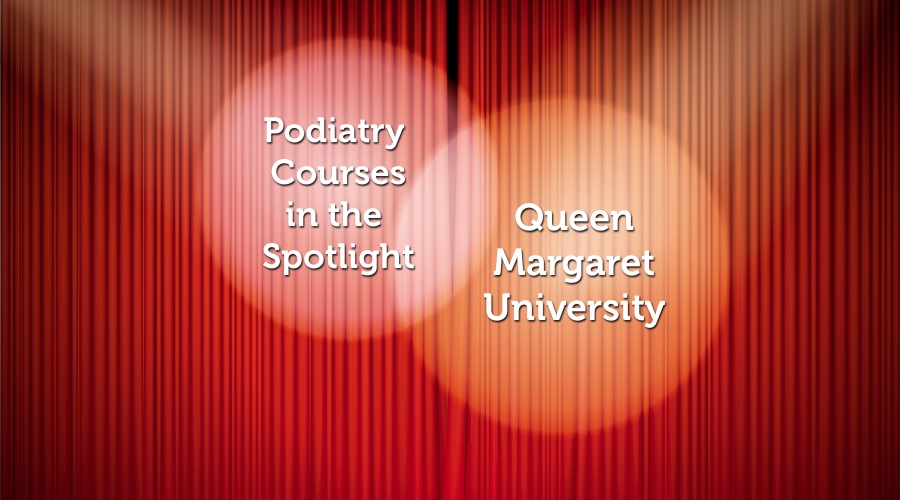 The College of Podiatry is working with the Schools of Podiatry across the UK to showcase each School's course and facilities. Welcome to Queen Margaret University's showcase blog… Being a podiatry student at Queen Margaret University, Edinburgh by Ying Peng 3rd year podiatry student. The first time that I ever heard about podiatry was from a causal conversation […]
THE COLLEGE OF PODIATRY IS WORKING WITH THE SCHOOLS OF PODIATRY ACROSS THE UK TO SHOWCASE EACH SCHOOL'S COURSE AND FACILITIES. WELCOME TO QUEEN MARGARET UNIVERSITY'S SHOWCASE BLOG…
BEING A PODIATRY STUDENT AT QUEEN MARGARET UNIVERSITY, EDINBURGH
by Ying Peng 3rd year podiatry student.
The first time that I ever heard about podiatry was from a causal conversation I was having with a friend, until then I did not realise fully what podiatry was.
My journey started out from the perspective of curiosity and wanting to become a health professional, this curiosity throughout the three years of study has become greater. At the beginning of my education trying to remember ridiculously long names such as 'onychocryptosis' or 'onychomycosis' sometimes made me feel as though I was going to pull my hair out. However, when you master these tongue twisting words suddenly they make you feel, 'Wow! I am involved in a professional course.'
During the first two years, I felt that the lecturers provided us with a huge amount of knowledge. Yet at the same time they were always confident enough to say 'don't worry, you will soon be able to connect all of this together'. They were correct. At the end of third year all of it fell in to place and came together. In the clinic, at the beginning, I thought that we only dealt with feet, so why should we study the whole body, now I realise how essential it is to have all of this related knowledge.
Academically in the early stages, I highly depended on the lecturers and supervisors to guide me. With their parental attitude and the constant asking of questions in order to get us to think more laterally about the theory behind podiatry, initially scared me. But over the course of the three years I felt as though I was growing up with a certain amount of knowledge to treat the patients I was trusted with. The lecturers pushed me because they had confidence in my ability. I finally feel able to connect the text book to reality.
Podiatry at QMU has a lot of practical elements to it. I feel this is the best part of the university course. It is not only based on theory but also on clinical practice as well. Clinics that we are involved in are routine NHS clinics, musculoskeletal clinics and nail surgery clinics. Within our third year of study students very much take the lead in the clinic and become heavily involved with new patients, which prepares us at an early stage to face the reality of what our future careers will be like.
As a student at QMU I feel the lecturers and all our supervisors in the clinic encourage students to study and the practical skills we acquire enable us to confidently move forward.
While the course requires hard work and diligence (that can at times can be a scary process), it is one which I am thoroughly enjoying. All the experiences thus far have been well worth it.
Now as a fourth year podiatrist having finished my third year of study, I am so happy that I made the right choice to undertake this degree. To follow in my footsteps visit the QMU Podiatry page here.
Thank you for stopping by to read our blog. Please share this story if you think someone you know might be interested in reading it.
Until next time
The Podiatry Careers Team