PODIATRY COURSES IN THE SPOTLIGHT… UNIVERSITY OF SALFORD
Showcase Blogs
UCAS Application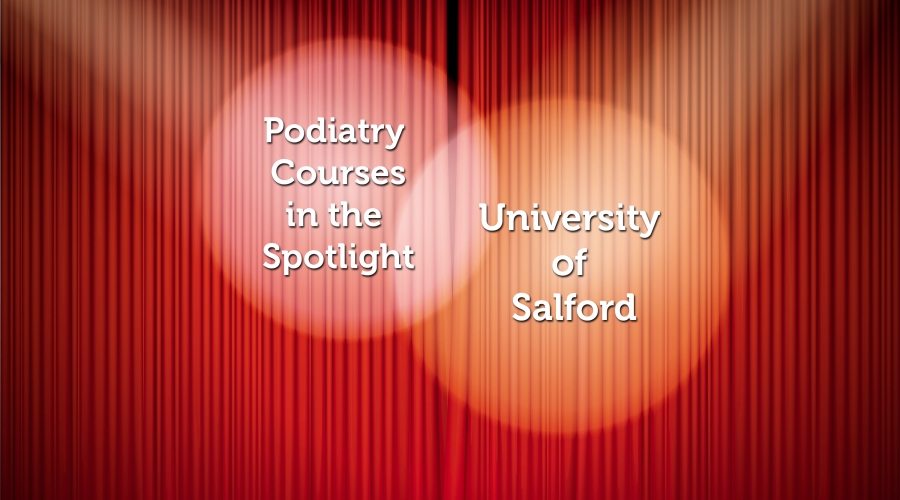 The College of Podiatry is working with the Schools of Podiatry across the UK to showcase each School's course and facilities. Welcome to University of Salford's showcase blog… To showcase our Podiatry course we thought we would showcase what we do here and a project we are currently working on… so you know what to […]
THE COLLEGE OF PODIATRY IS WORKING WITH THE SCHOOLS OF PODIATRY ACROSS THE UK TO SHOWCASE EACH SCHOOL'S COURSE AND FACILITIES. WELCOME TO UNIVERSITY OF SALFORD'S SHOWCASE BLOG…
To showcase our Podiatry course we thought we would showcase what we do here and a project we are currently working on… so you know what to expect when you arrive to study with us!
Feet are our "GREAT FOUNDATIONS"™
How do children's feet develop as they grow? And how do parents make the right choices to support that healthy growth?
The Podiatry Schools of Salford and Brighton are coming together to help answer these questions. Dr Stewart Morrison (Brighton) and I (Professor Chris Nester, Salford) are leading research as part of our new initiative "Great Foundations", based on our belief that good foot health is the foundation for healthy living, and this starts from our first few steps. Watch children play and you'll realise how important feet are to their physical and social development. It's never been more important, with reports of 30% of children being overweight or obese. Also take a moment to think about your own feet and how they have helped you today, and what the impact would be if your foot health was poor?
As Podiatrists we have the privilege of being to help many thousands of people with poor foot health keep on their feet, and keep living active lives. Feet really are Great Foundations.
In our initiative we will be delivering research in two areas, the first concerns foot health knowledge and behaviour in parents and how knowledge and practices of health professionals and industry may, or may not, promote good foot health in children. The second area is about how the physiology of feet changes as we learn to stand and walk, and thus our feet have to learn to bear load for the first time.
Through working with parents, health professionals and industry partners the Salford and Brighton teams hopes to disseminate clear, evidence-based guidance on children's feet and broaden our understanding to inform good foot health throughout childhood.
The William M. Scholl Endowment Fund, a charity focused on advancing foot health research and
education, is providing £1.5Million funding for the five-year GREAT FOUNDATIONS initiative.
Find out how to become a student at Salford on our Podiatry page.
Thank you for stopping by to read our blog. Please share this story if you think someone you know might be interested in reading it.
Until next time
The Podiatry Careers Team