I WANTED TO BE A NURSE BUT… I CHOSE PODIATRY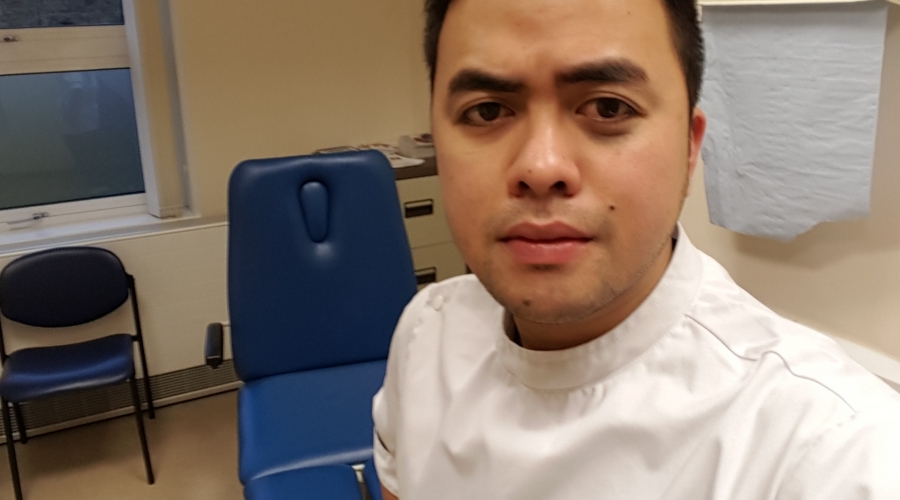 Podiatry student Juvial wanted to be a nurse but through clearing ended up choosing podiatry. Here's his story: "I am one of those people who was very fixated on doing a nursing degree no matter what. After I finished my diploma in Access to Nursing, I straight away applied for a nursing degree in various […]
PODIATRY STUDENT JUVIAL WANTED TO BE A NURSE BUT THROUGH CLEARING ENDED UP CHOOSING PODIATRY. HERE'S HIS STORY:
"I am one of those people who was very fixated on doing a nursing degree no matter what. After I finished my diploma in Access to Nursing, I straight away applied for a nursing degree in various universities. I was unfortunately unsuccessful in my nursing interviews and nearly gave up. I had done different jobs just to cover up my dream and pretend it was not my aim anymore in life—but I realised that I must aim big and that was to be a nurse so my children would be proud of me when they are old enough to understand what I do for a living. I was very frustrated, depressed and started to belittle myself. As I was driving back home, after being refused freshly from a university, I decided to ring the closest university to my home—Plymouth University. It was the last day of clearing, I hoped for the best that they would offer me a medicine related degree. I was invited to apply for two remaining courses: occupational therapy and podiatry. Podiatry? I asked the man behind the phone. Well, it is feet!
The choice is yours, but if I had to decide for you—I would choose BSc (Hons) Podiatry!
PREPARATION IS KEY
I prepared really well for the interview and passed! I am now a second-year student and am enjoying every moment of the course. The OSCEs that prepared me to do my practical procedures safely, backed up by my knowledge gained from my fantastic lecturers. I will never deny that I was once ignorant about podiatry but it is an excellent course. I am studying the anatomy of the foot (muscles, ligaments, bones, the physiology of our body), treating different age groups, knowing them individually and being able to have the privilege to treat their individual foot problems and make a massive difference to their life. You are a foot specialist, how awesome is that!
I am from an Asian background so English is not my first language, but this was not a problem as the University has been very supportive of me. I would never swap this degree for any other degree at all! I have the choice either to work in NHS or privately. The choice is yours, but if I had to decide for you—I would choose BSc (Hons) Podiatry!"
Click here to find out more about a studying for a podiatry degree at Plymouth Univeristy
Thank you for stopping by to read our blog. Please share this story if you think someone you know might be interested in reading it.
Until next time
The Podiatry Careers Team