UNIVERSITY OF SALFORD…SUPPORTING THE HOMELESS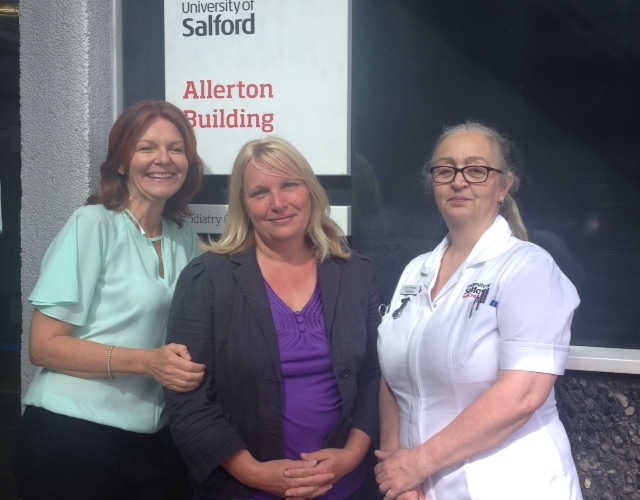 University of Salford Podiatrists support the Urban Village Homeless Clinic The Urban Village Manchester offers a fantastic clinic for people of no fixed abode (NFA) where GPs, nurses and social workers currently open their practice doors one afternoon a week to offer medical and social help, advice and treatment to these vulnerable individuals. Following the […]
UNIVERSITY OF SALFORD PODIATRISTS SUPPORT THE URBAN VILLAGE HOMELESS CLINIC
The Urban Village Manchester offers a fantastic clinic for people of no fixed abode (NFA) where GPs, nurses and social workers currently open their practice doors one afternoon a week to offer medical and social help, advice and treatment to these vulnerable individuals. Following the annual 'socktober' last October , where local centers, colleges and churches donated socks to the clinic, The University of Salford (UoS) Podiatry department was contacted by the practice 'homeless specialist nurse' regarding delivering much needed foot care.

Since that first request a dialogue has been ongoing with the Urban Village and Manchester NHS Podiatry service . Initially honorary contracts were agreed and recently three U.o.S. Podiatry staff have started the process of incorporating a Podiatry Service for people with NFA.
People with NFA suffer from a wide range of foot problems including trench foot, frost bite, blisters, thickened deformed toes nails, ulcers, corns and callus. Whilst some of these conditions are seen routinely in podiatric clinics others, like trench foot and frost bite , are debilitating conditions suffered by people exposed to weather with no chance of drying their feet, shoes or socks. To help with this all patients attending the clinic are issued with new socks. We have also been able to supply new footwear. Trainers were donated by one of the Podiatry researchers from U.o.S. , and a local Podiatrist working with an Orthotist , gave us specialist shoes. In the future we hope to build links with footwear providers and increase the stock available
GREAT OPPORTUNITY FOR PODIATRY STUDENTS
Things are progressing well and the start of the academic semester 2017 will see our first Podiatry students given the opportunity to attend this fantastic clinic as part of their final year placement. This is a challenging, stimulating and exciting opportunity which will give people the chance to improve their foot health, decrease pain and increase their quality of life.
For further details on studying podiatry at the University of Salford can be found here
Thank you for stopping by to read our blog. Please share this story if you think someone you know might be interested in reading it.
Until next time
The Podiatry Careers Team