Celebrating fifty years of podiatric surgery in the UK
Faculty of Podiatric Surgery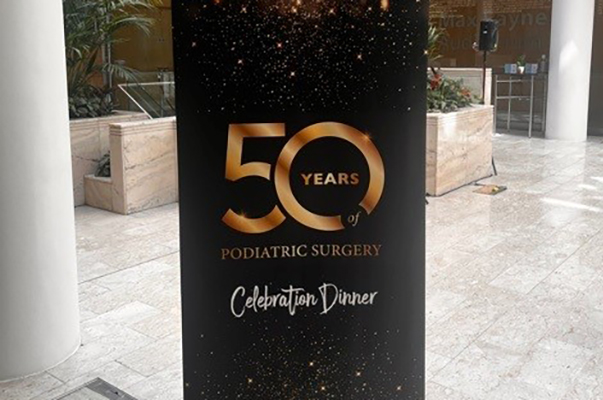 Ewan Kannegieter, Vice-Dean of the Faculty of Podiatric Surgery and Regional Deanery Chair for the South, reflects on the recent anniversary event celebrating 50 years of podiatry in the UK.
The Royal Society of Medicine, a prestigious institution known for its commitment to advancing medical knowledge, hosted a magnificent black-tie dinner to celebrate the 50th anniversary of podiatric surgery in the UK, providing a welcome evening of reflection, appreciation, and hope for the future.
Guests were greeted on arrival with drinks and the opportunity to reunite with friends, colleagues and peers, old and new.
The evening's programme included short speeches from Mr Kaser Nazir, Dean of Faculty, and Dr Paul Chadwick, Clinical Director of the Royal College of Podiatry. The main event was the after-dinner speech by Professor Tim Kilmartin who gave a historical overview of podiatric surgery, delivered with great skill, drama, humour, and honour to those who gave much to develop the profession. We are grateful to Tim for the many, many hours of research and preparation invested in sieving through the archives.
As the evening came to an end, attendees were united in their gratitude to those that that have worked tirelessly to push the boundaries of podiatric surgery and left inspired in their commitment to continue to advance foot surgery in the UK, improve patients' lives, and contribute to the broader field of medicine. For those with the energy to carry on, the after-party continued late into the night in the West End of London.
The Faculty of Podiatric Surgery's black-tie dinner was an exceptional event that marked the 50th anniversary of podiatric surgery in the UK in a fitting and distinguished manner.