Flu peer vaccination campaign 2020
Blog
flu peer vaccination campaign
peer vaccinators
Belfast HSCT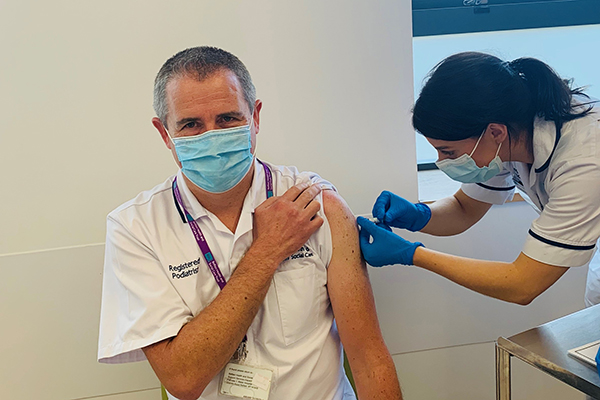 Robyn Hobson describes how she became a peer vaccinator for Belfast Health and Social Care Trust (HSCT), administering the flu vaccine to other healthcare workers
Last year has been a very challenging and difficult period and everyone has been affected in one way or another by COVID-19. However, every winter the National Health Service experiences additional pressures as a result of an increase in hospitalisation and deaths due to several factors – one of these being Seasonal Influenza or "Winter Flu" (Public Health Agency, 2020).
With the Health Service already being under pressure and the fact that the flu season was likely to coincide with COVID-19 this winter, it was vital that the impact of the flu was minimised (Public Health Agency, 2020). In Northern Ireland, one way the Health Service accomplished this was by expanding the criteria for the free flu vaccination to a wider population. With this increase in the availability of the vaccine comes the need for trained vaccinators and this was achieved by recruiting a larger number of peer vaccinators.
Peer vaccinators are healthcare workers that administer the vaccine to other healthcare workers within the same Health Care Trust (Johnston and Quinn, 2020). Johnston and Quinn (2020) as part of the Public Health Agency Immunisation team also recommend the use of peer vaccinators as it has been shown to increase the uptake of the vaccine by making it easier and more accessible for staff.
With podiatrists already having injection skills, we are the ideal candidates for recruitment and are always keen to get stuck in and do our bit. In October 2020, my colleague Katherine McToal and I, trained to become peer vaccinators and administered the flu vaccine within Belfast Health and Social Care Trust (BHSCT). Training included a mix of e-learning, remotely taught courses and face-to-face practical sessions. We covered the national flu aims and policies, background information on flu and how the vaccines work, correct administration, storage and handling of the vaccine, medicines' management as well as the recognition and management of any adverse reactions including Anaphylaxis. In addition to the skills and knowledge, we needed confidence in communicating the benefits of the vaccine and the ability to discuss and allay individuals' concerns.
To minimise disruption to the delivery of podiatry services for our patients and to ensure the best uptake of the vaccination, we wanted to be as accessible as possible for our colleagues; therefore, we travelled to them. As a result, we had to consider several things:
Finding out the number of people who wanted the vaccine
Which days would be the best to go to each location to ensure we had the highest uptake?
How to contact people to ensure they knew when we were coming?
The number of vaccines we should order (to ensure we had enough and to minimise waste)
How to transport and store the vaccines (maintain the cold chain)?
Appropriate recording of who had received the vaccine and learning how to input this onto the Belfast central flu vaccine system
Collating data
Over nine days, we travelled to eight different locations and administered 65 vaccines. We contributed to the achievement of 63% vaccinated within our podiatry team, in addition to vaccinating other staff including physiotherapists, nurses and administration staff.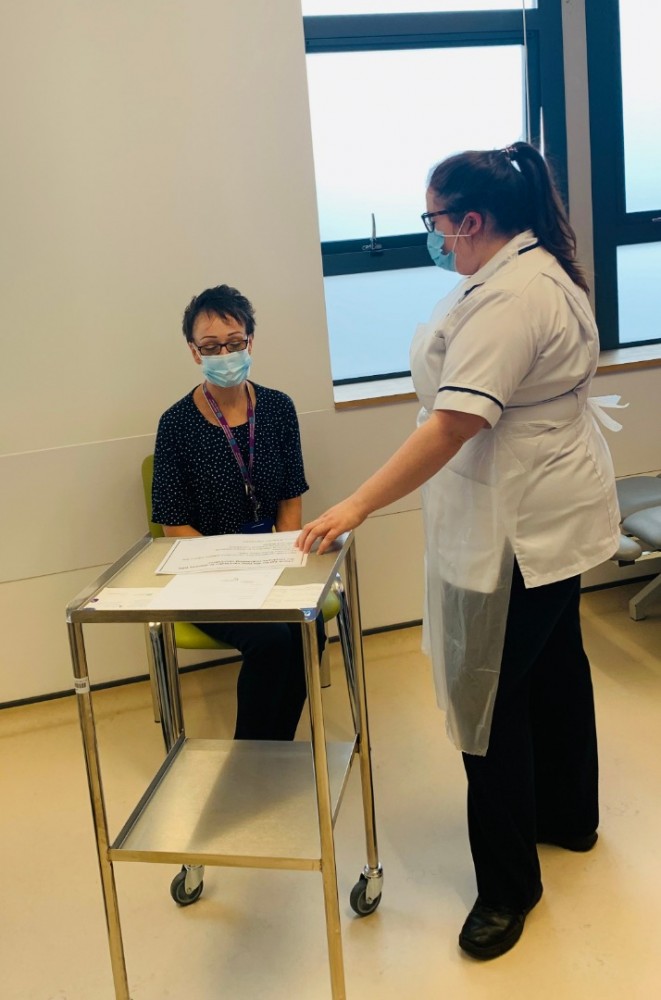 We were the first podiatrists in Northern Ireland to become peer vaccinators and organise our own clinics, therefore we had to overcome many challenges. One of these was to ensure we effectively maintained the cold chain. The cold chain refers to how the vaccine must be stored between 2 and 8°C without prolonged exposure to heat or light which will reduce the potency and effectiveness of the vaccine (Public Health England, 2020). As a result, we had to ensure we had access to medical refrigerators and could transport the vaccine safely between areas in a purpose-made vaccine porter (medical cool bag). We overcame this challenge by keeping a daily detailed log of fridge/porter temperatures, expiry dates and by rotating stock frequently.
Within the current climate having the skills to administer vaccinations is invaluable. Belfast HSCT now has two more podiatrists, Anna Vaughan and Poppy McAuley, trained as vaccinators and we are now waiting to be recruited for the COVID-19 vaccination programme. The Belfast HSCT podiatry team will continue to care for people during this pandemic, whether this is through the skilled management of limb-threatening conditions, being part of the vaccination programmes or being redeployed to help our medical staff in the COVID-19/ICU wards.
Thanks to Belfast Health and Social Care Trust Podiatry and Occupational Health teams for all the support and guidance.
Reference list