Podiatrist receives the COVID-19 vaccination
COVID-19
Coronavirus
pandemic
vaccination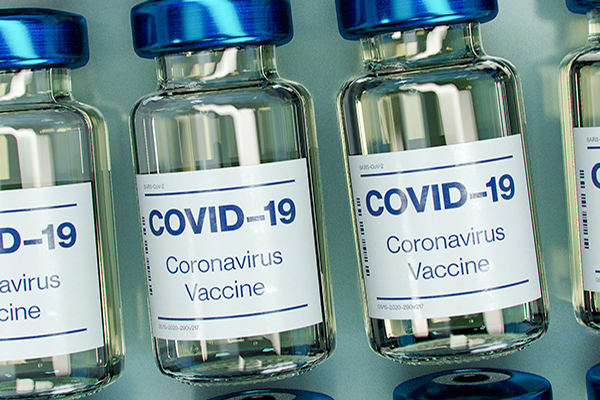 Podiatrist Mark Sugden receives his first COVID-19 vaccination and encourages other podiatrists to do the same
The Medicines and Healthcare products Regulatory Agency (MHRA) approved the Pfizer/BioNTech COVID-19 vaccination on Wednesday 2 December. Mark Sugden, an MSK Lead Podiatrist at NHS Forth Valley and College of Podiatry Staff Side Representative, had his first jab just six days later.


NHS staff are some of the first people to be vaccinated. Other groups included in the first phase of the vaccination roll out are those who are over 80 years old, workers in care homes and the vaccinators themselves.
As one of the first podiatrists in the country to receive the vaccine, the College caught up with Mark to find out how it happened and what the experience was like.
The process for Mark started on the afternoon of Friday 4 December. "The Chief Executive and Board of the Trust called a meeting to discuss the roll out of the vaccine. Following the meeting all NHS and social care staff were emailed shortly afterwards to encourage and invite them to book appointments for vaccinations from 5pm that day. I contacted the health records department and was pleasantly surprised to be offered one of the first appointments on Tuesday, 8 December, and I was also told my second vaccination injection date would be 5 January 2021."


Mark was advised to arrive early to complete the necessary paperwork answering 10 questions to ensure he was aware of the process and he was well informed about the vaccine. "After that, I was provided with a patient information booklet detailing any possible side effects and highlighting that my second injection must be within 21-28 days of this initial vaccination injection. I was asked if I was in good health and that I did not have any current COVID-19 symptoms. The vaccinator asked if I would prefer the jab in my right or left arm. Then any possible side effects that could occur were thoroughly explained and I was asked if I had had any adverse effects to any other vaccines previously. I was very well instructed throughout."
Mark felt fine after the injection. "I did feel the injection slightly as it went in but felt fine afterwards. They told me to sit down outside the room for 15 minutes just to ensure there was no adverse reactions. There were none".
The College of Podiatry has been involved in talks with NHS Employers for some time on the roll out of the vaccine to NHS staff. Martin Furlong, Head of Employment Relations, thinks it is one of the biggest logistical challenges the country has ever faced and it is important that the NHS is leading on this.

"Getting the balance right between different groups of vulnerable patients, at risk members of the public and healthcare staff is a huge challenge – but it looks like Mark's employers have got this right. It's great to see podiatrists being vaccinated and protected and the vaccinations being rolled out. It will take a while for everyone to get a vaccine, but it will be worth it to get back to normality."


Mark will go back to get his second dose of the COVID-19 vaccine on 5 January, 28 days after his first one.

What would Mark say to other podiatrists and NHS staff about the vaccine?

He says that it is about reducing risk to yourself and others:

"The key thing is that this vaccination protects you. We are front line workers. We are face-to-face workers. We work in environments where there is a high foot fall. I would advise that everybody who has the opportunity gets vaccinated. You want to reduce the risk to yourself, your family, and others. We are starting to get back to some sort of normality and this will help the process"
Mark Sugden
NHS Forth Valley