Training and preparing to become a vaccinator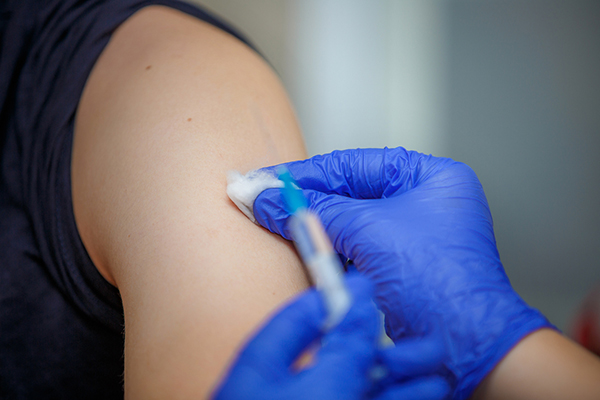 Find out how one of our members trained to be a COVID-19 volunteer vaccinator
Being in private practice has brought challenges throughout the pandemic, but often when I've felt frustrated at the skyrocketing prices of nitrile gloves, I've reflected on my sister-in-law back home in Northern Ireland, a Speech and Language Therapist (SLT), who was redeployed to help with proning during the first lockdown. During long 12 hour shifts in full personal protective equipment (PPE), working with a team turning ventilated patients, she found that her skills as a SLT were also needed for patients struggling to communicate after they were taken off the ventilators. Working in the NHS gave her access to help out: what could I do?
Then I saw a call out from my GP constituency SMASH (Sandbach, Middlewich, Alsager, Scholar Green and Haslington – Cheshire) on Facebook for volunteers with an appropriate health care background who were willing to train to assist in administering COVID-19 vaccinations. 'That's me!' I thought, 'I have a prescription-only medicine (POM) qualification and I already inject feet. How hard can it be?'
I replied to the email and was contacted quickly by a coordinator who, once she had confirmed my credentials, gave me access to modules through E-Learning for Healthcare. I already had access to the system through the CoP.
These modules were:
COVID

Core knowledge for COVID-19 vaccination
COVID-19 mRNA vaccine BNT162b2

Anaphylaxis-2 modules (unless updated in last 12 months)

An iognising and managing anaphylaxis

Care Certificate (unless updated in last 12 months)

Standard 12 basic life support

Immunisation (IMM) (unless updated in last 12 months)

Legal aspects
Vaccine storage
ntroduction to anaphylaxis
Rec
Vaccine administration

Patient Group Directives (unless updated in last 12 months)
Recommended reading - Essential Guidance from the NHS, UK Government, WHO and BMJ.
There was also a Greenbook Chapter 14a, a hefty 19 pages long.
I found that most of this was revision and worked my way through it over the Christmas holidays. Some of the modules had elements that were not that relevant especially the ones that were on general vaccinations, but I suppose the training was put together from original elements mixed with COVID specific ones. A COVID-19 Vaccine AstraZeneca module was added just as I thought I was finished.

In addition, there was a Microsoft Teams DBS Check, an Occupational Health phone call and an Occupational Health face to face meeting where my immunisations were checked over and my Hepatitis B topped up. This last appointment was on the 11 January and a week later I was placed on the Vaccinators Database, a system called TempRE.
Now I am poised and ready to go. I will receive emails with information of vacancies that are in my area and if the day, time and venue suit I will click 'Apply'. This is an ideal arrangement for me - I can work around my practice, whilst at the same time using my new found skills and my training as a healthcare professional to contribute at a time of national emergency.

Janet McGroggan
Sandback
Cheshire