Annual Conference 2021 - "A great insight into the wonderful world of podiatry"
Blog
Annual Conference
Student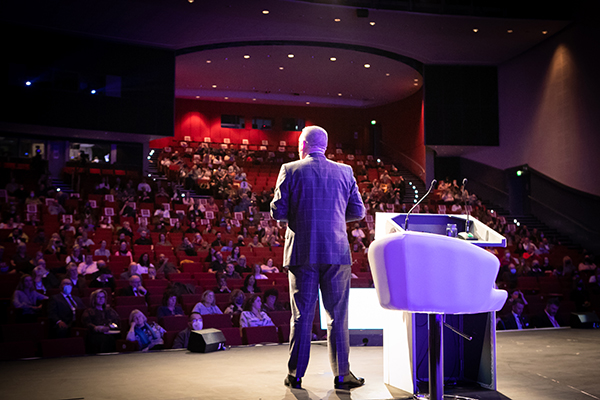 Students from the University of Salford urge others to sign up for this year's Annual Conference
Last year's highly anticipated Royal College of Podiatry annual conference was held at the ACC Liverpool 18 – 20 November 2021. This was the first face-to-face conference in two years!
The conference began with a student networking event where the former Chair of the College, Matthew Fitzpatrick, introduced himself, along with Elaine Garnett, Membership Officer, and Claire Angus, Director of Membership Services. We would like to send our thanks to them for their warm welcome.
During the keynote speech we received a truly inspirational presentation from Martine Wright, MBE, London Olympics and Paralympics. Martine was critically injured during the 7/7 London tube attack and described her compelling story of survival. Martine shared her adopted mantra of the 'Power of 7' approach for creating resilience, positivity, structure and a new purpose to her much-changed world.
We then headed over to the Exhibition Hall where the Royal College of Podiatry was running the '60 second King of the Doppler' challenge, with the chance to win a Dopplex ATP DMX kit, and took advantage of a photo op in the throne room, following the College's award of royal status. Each exhibition stand had something new and exciting to offer - from the latest range of orthotics, creams and footwear to art exhibitions - there was something to cater for all interests and aspects of podiatry. The exhibition centre provided an opportunity to meet and network with individuals from all over the country, as well as exploring different career opportunities such as working abroad.
After lunch there was another wide range of sessions held. We decided to head over to the student network session where Dr Ivan Bristow gave a fantastic talk on all things dermoscopy! The first day concluded with a student networking session where we were able to talk to a number of podiatrists from different scopes of both private and NHS practice. All of the attending podiatrists were truly helpful and gave lots of encouraging advice. (The free wine was a bonus!) We then made our way into Liverpool town centre and had an evening full of fun with students across the country!
We (somehow) made it to the Friday morning preliminary session and learned more about the effect that COVID-19 has had on podiatry as a profession. Throughout the day we also attended surgery, diabetes and vascular sessions. The much-awaited Saks report, which outlines 28 recommendations for the development, advancement and sustainability of the podiatry profession, was shared in a plenary session. It was made evident that our job, as the future of podiatry, was to establish ways to improve collaboration between the NHS and private practice, as well as striving to increase patient engagement.
On the Saturday morning, we attended a suturing workshop, a personal highlight of the conference. Not only did we gain a hands-on experience - it also gave us the opportunity to speak to podiatric surgeons and learn about their role within the profession.
"I thoroughly enjoyed my time at the RCPod Annual Conference and found it extremely useful to explore the wide range of opportunities within podiatry. The opportunity to network with other podiatrists and students has been invaluable!" - Lauren Pringle


"

Overall, the conference was a great insight into the wonderful world of podiatry and really demonstrated the vast scope of podiatry as a profession. We would like to encourage all students to attend the next conference held 7 – 9 July 2022, and look forward to seeing you all there!"

-

Adamma Sargeant

Adamma Sargeant and Lauren Pringle
MSc Podiatry Students from the University of Salford


Editor's note
Tickets for this year's Conference will go on sale on 16 February 2022 starting with a flash sale, which offers you a ticket for the full conference for the price of only £199.00. Get your flash sale ticket before the standard price kicks in on 6 March 2022. Go to the Conference page to book your ticket.