Allied Health Professionals - The solution to recovery and rebuild of our HSC. Stormont, 15 March 2022
Northern Ireland
Stormont
AHP
Allied Health Professions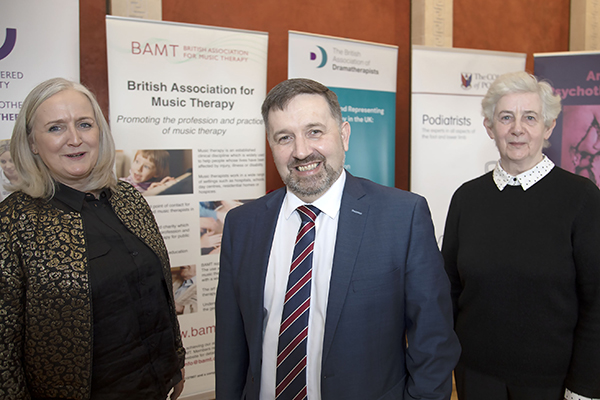 Podiatrists and other Allied Health Professionals (AHPs) are 'untapped resource' Belfast audience told
The highly skilled work of podiatrists and other AHP professionals was showcased at an event in Belfast's Parliament Buildings on 15 March.
Under the banner of the Allied Health Professions Federation Northern Ireland, the Royal College of Podiatry (RCPod) joined colleagues from 12 other AHP professional bodies and addressed an audience which included the Northern Ireland Health Minister, Robin Swann, members of the local Assembly's Health Committee, and Department of Health colleagues including Professor Suzanne Martin, Chief AHP Officer in Northern Ireland and Michelle Tennyson, Assistant Director for AHPs at the Public Health Agency.
Minister Swann addressed delegates, saying there was 'no doubt' Allied Health Professions made a significant contribution to the 'safe and effective delivery of Health and Social Care services across Northern Ireland'.
With more than 6,000 AHPs working in Northern Ireland, 575 of whom are podiatrists, the Chair of AHPFNI, Ann Tate, agreed.  She said:
"We have a crucial role to play in tackling waiting lists and in helping us all move forward from the COVID-19 pandemic.  AHPs want to be part of the solution to the healthcare crisis but believe that currently, we are an untapped resource.  We want that to change and for our voice to be heard."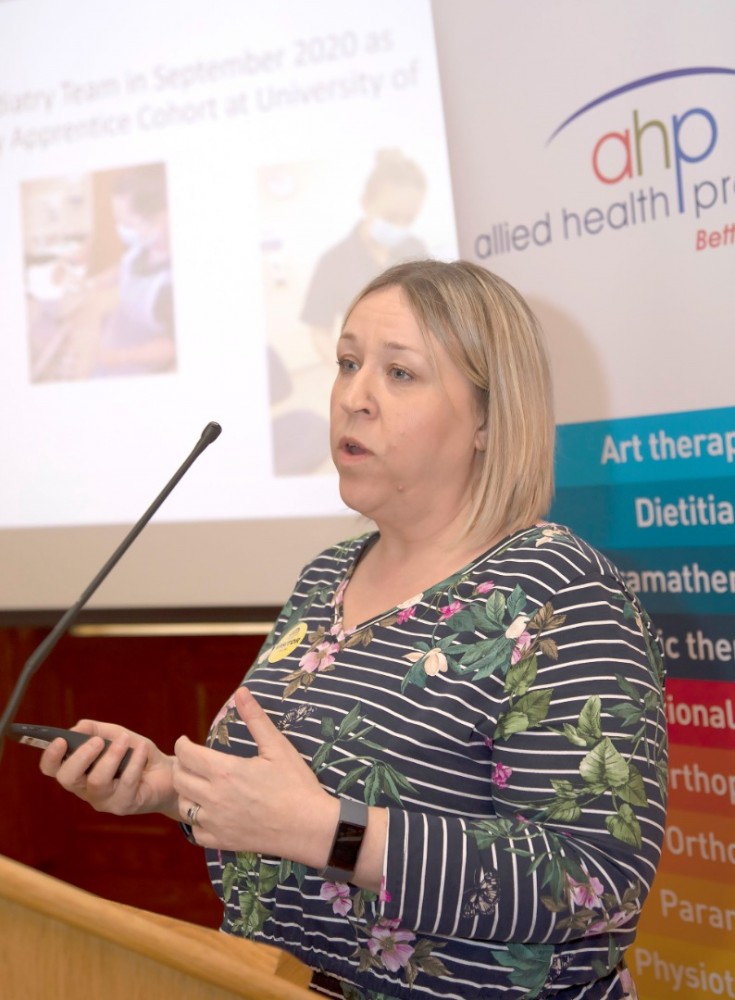 Emma Stoneman (pictured left), Professional Lead for Podiatry at the East London Foundation Trust, was a keynote speaker.  She shared her passion for podiatry with attendees and explained how, through the power of apprenticeships, students are now being offered exciting new routes into AHP professions. 
RCPod continues to work with the Health Minister, the Department of Health and the arm's-length bodies of government to ensure that podiatrists, whether in the public or independent sector, continue to provide dynamic, preventative healthcare for people across Northern Ireland.
(Pictured above: Professor Suzanne Martin, Northern Ireland Health Minister, Robin  Swann and Ann Tait, Chair AHPFNI)
Download the RCPod's flyer, Saving limbs, saving lives, that was distributed at the meeting on 15 March