Disability sportswoman fronts Legs Matter Week, 11-15 October 2021
Legs Matter campaign week
Are you ready to take charge?
leg and foot health
lower limb problems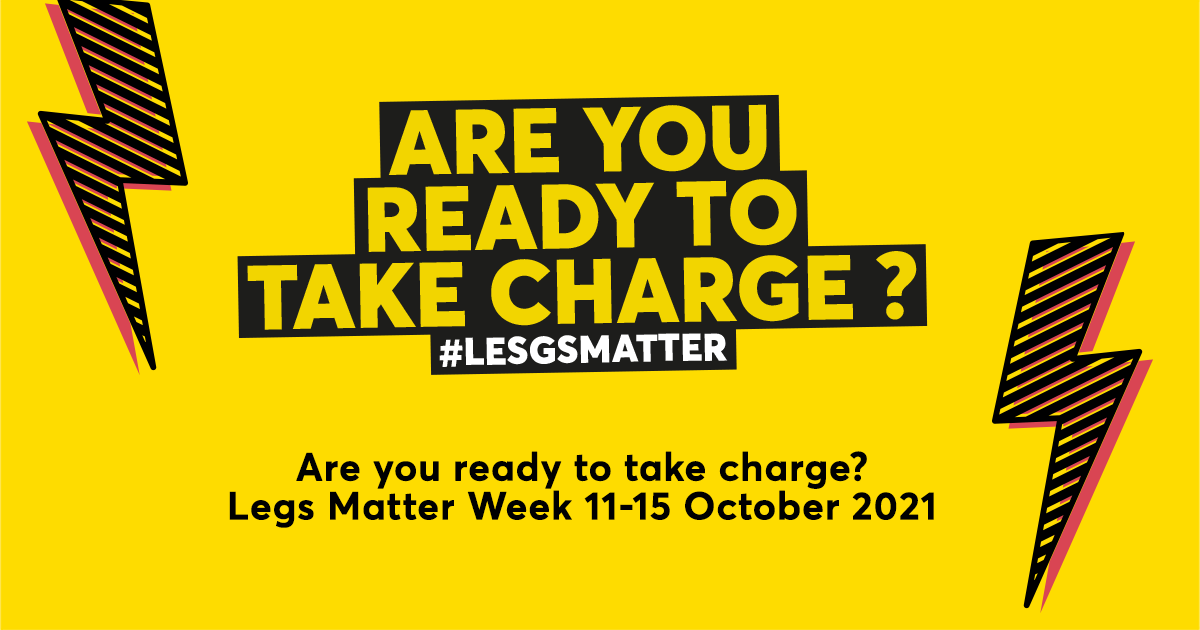 Former army medic and disability sportswoman, Nerys Pearce, urges patients to 'take charge' of leg and foot health
Former Army medic and disability sportswoman Nerys Pearce is leading the 2021 Legs Matter Awareness Week campaign - urging others to take positive action and make a change for better leg and foot health.
Nerys is one of an estimated 1.8 million people a year in the UK who experience a life-threatening or serious problem with their legs and feet, often caused by an underlying issue with circulation or neuropathy.1
Joanne Casey, Legs Matter campaign member and podiatrist from the Royal College of Podiatry, London, said:
"For wheelchair users, looking after their legs and feet is very important because they are often in the same position for many hours and this can cause problems, such as swelling and pressure damage to the skin. Often with spinal injuries, like those sustained by Nerys, there is a lack of feeling, so it's important to check the skin on the feet and legs for signs of redness, swelling, bruising, cuts or splits, changes in temperature and deformity. If people are worried, it's essential to seek medical help quickly."
As part of the campaign targeting the public and patients, GPs, pharmacists, podiatrists, tissue viability, district and practice nurses are among the health care professionals being urged to support the initiative and to sign up for online events during the third national week.
Campaigners hope even more primary care professionals will get involved and help patients to make a positive change using tips on the www.legsmatter.org website, including self-management, exercise and having a positive mindset. The site will feature free resources and virtual events, suitable for the public, patients and healthcare professionals, including live Q&A sessions with clinicians and patients like Nerys. Book your place in the Legs Matter Lounge via the website.
The UK has a growing number of people experiencing serious lower limb problems - often linked to obesity and costing the NHS up to £8.5 billion annually. A report published earlier this year, revealed that the number of patients with wounds annually has increased from an estimated 2.2 million between 2012/2013 to around 3.8 million in 2017/2018 - an increase of 73%.2
Nurse consultant Dr Leanne Atkin from Pinderfields Hospital, Wakefield, is chair of the campaign, working to increase understanding, awareness and action for serious lower leg conditions, including leg or foot ulcers, swollen legs and cellulitis.
Dr Atkin said:
"We want more people to realise that they have the power to stop their leg or foot problem escalating and becoming more serious. We need every patient to take positive action, seek face-to-face medical help faster and to make lifestyle changes. If anyone is worried about their legs or feet, they should contact their GP, who would prefer to see them sooner rather than later, and they can also access specialist information on our website."
The Legs Matter website has recently been updated with the latest information about lower limb conditions, suitable for health care workers, patients and families.
Supported by NHS England, the Legs Matter campaign was formed by a group of the UK's leading lower limb clinicians, who, together with patient partners, are campaigning to make serious leg and foot problems a thing of the past.
Operating under the governance of the charity, The Tissue Viability Society, Legs Matter is also made up of representatives from The British Lymphology Society, Accelerate, The Royal College of Podiatry, The Society of Vascular Nurses, The Lindsay Leg Club Foundation, Foot in Diabetes UK and The Leg Ulcer Forum. It wants to ensure that anyone with a lower leg or foot problem understands their condition and gets the urgent care and support that they need.

References

1 Julian Guest, Graham Fuller & Peter Vowden study evaluating the burden of wounds to the UK's National Health Service in 2017/2018 BMJ Open https://bmjopen.bmj.com/content/bmjopen/10/12/e045253.full.pdf
2 https://bmjopen.bmj.com/content/bmjopen/10/12/e045253.full.pdf