An open letter from the Chairman of the Royal College of Podiatry
AGM
Annual General Meeting
Foot Health Practitioners
FHPs
Health Education England
HEE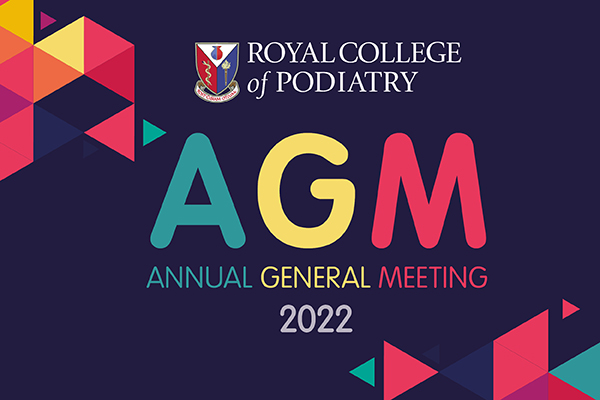 Letter to members in advance this year's AGM on Thursday 7 July


Dear members,
There is a critical vote coming up at our AGM in July. It is about Council's decision to open associate membership to FHPs who only work under the supervision of a podiatrist and have completed a course of study approved by the College, in the same way we do for Podiatry Assistants.
I'm asking you, our members, to take part in this crucial vote and to vote against Resolution 5.
Why am I asking you to vote against this resolution and to support this Council decision?
When Health Education England recognised Foot Health Practitioners as part of the support workforce in the NHS in England for the first time in 2020, we knew that we had to act. We had to look at how the College could take a leading role in ensuring that FHPs had the right education and training to meet these standards and to ensure patient safety.
As part of this work, we ran a three-month engagement campaign last year to gather feedback from you, our members, to help inform Council's decision on whether we should admit FHPs as Associate members. We also wanted to find out what some of our members' concerns might be.
The key concerns you had were:
The risks associated with FHPs working independently without proper supervision
The quality and standard of FHPs education and training
The risks around patient safety.
So, we knew that we had to think very carefully about how we could potentially mitigate these risks.

Firstly, we had to look at how we could ensure the training standards of these support workers. So, we took steps to ensure that we had active control over this by applying for and winning the tender from HEE to be responsible for:
The standards of education and training for the support workforce
The approval of the training courses that they study on.
We then looked at how we could address your other concerns. This is where your feedback helped to shape a very important part of the criteria that would provide the valuable protections you asked for.

Council agreed that no FHP or unregistered support worker would be admitted to this organisation unless they were working under the supervision of a podiatrist who is a member of the Royal College of Podiatry.

So, because of your feedback:
We will supervise them
We will accredit their training
We will approve the courses that they study on.
And when any unregistered support worker applies to become an associate member, we won't admit them unless they are supervised by a full registered member of the Royal College of Podiatry. By one of you. And they need to have completed an accredited training course that is approved by the College.
Council listened to your concerns.
It brought in measures to ensure the safety of patients.
By admitting FHPs that meet the criteria we have set we are lifting the standards of a currently unregistered workforce.
We believe that it is for the Royal College of Podiatry to improve standards across the whole of the foot health workforce. And we believe that in the longer term it is key to helping to secure the future of the profession, so that there are enough people looking after the foot and the lower limb for many generations to come.
That's why we are asking you to vote against Resolution Five at the AGM on Thursday 7 July.
Best wishes
Michelle ScottChairmanRoyal College of Podiatry