RCPod and HOKA announce one-year endorsement partnership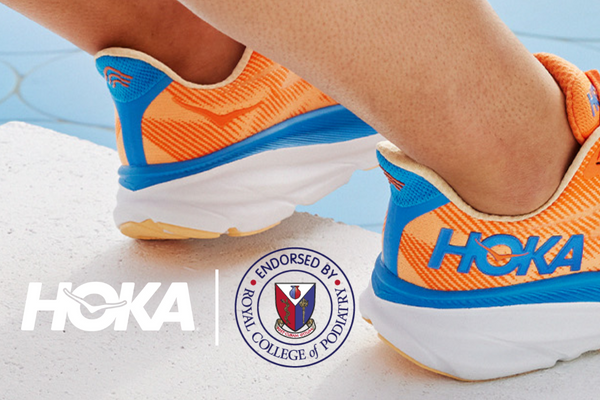 The Royal College of Podiatry (RCPod) and HOKA have today announced a one-year partnership that will see the College endorse 10 categories of the brand's running and trail shoes in the UK.
The RCPod approves products and companies that meet the professional body's highest podiatric standards through its product endorsement scheme. The College's seal of approval will now adorn 10 HOKA product lines.
The HOKA application for endorsement was reviewed by an internal panel of podiatric experts as part of a review group that looks at the merit of all endorsement applications.
The products involved in the deal include some of the shoemaker's most popular lines, including their:
Clifton 9
Bondi 8
Bondi SR
Arahi 6
Gaviota 4
Ora Slide 3
Challenger 7
Challenge 7 GTX
Anacapa Mid GTX
Anacapa low GTX
The partnership follows a period of close cooperation between the two organisations to promote the importance of good foot health and exercise. In 2022, HOKA and the RCPod staged a 5k run in Liverpool to stress the benefits of staying active.
The College will publicise its endorsement with HOKA to its members and to the public as part of the agreement.
Natasha Smith, Interim Business Development Manager at the Royal College of Podiatry, said:
"It's fantastic to be able to endorse 10 HOKA product lines. Our endorsement scheme was set up to recognise products and companies that adhere to our rigorous and high podiatric standards. Ultimately, it's about ensuring that the public, and podiatrists, can recognise and trust products that can help them with their foot and lower limb conditions. We're pleased to welcome them as a partner and look forward to working with them over the next 12 months".